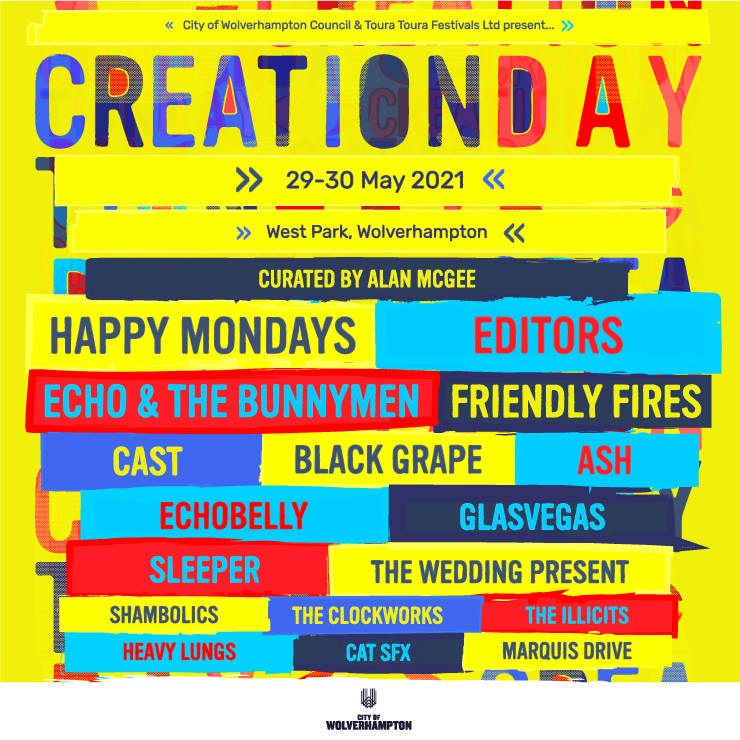 Saturday May 29th & Sunday May 30th – 12.30pm – 10.45pm
Presented in a joint collaboration between The City of Wolverhampton Council, Creation Management and Toura Toura Festivals, the first Creation Day festival will be exclusively curated by Alan McGee. A bonafide music mogul who has been at the epicentre of the music industry for the last four decades, McGee is opening up his enviable address book to conjure a formidable line-up for the first Creation Day Festival…
Who better to headline the first night than proven party-starters: HAPPY MONDAYS. Since 1980, the Mondays have been corrupting audiences with the baggified brilliance of alternative dancefloor anthems like 'Step On', 'Kinky Afro', and 'Hallelujah'. Now signed to McGee's Creation Management, the band will be stepping up to the mainstage as the certified '24 Hour Party People' they are. Something that's especially true for their infamous frontman, Shaun Ryder, who will be also performing over the weekend with his other band: BLACK GRAPE. A Creation Day Festival Exclusive, this will be the first time Ryder will have fronted both acts at one festival.
It's no understatement to say that Sunday night will be headlined by one of the Midlands' greatest musical exports this century: EDITORS. Formed in Birmingham, the band launched into the consciousness of the mainstream with their stunning 2005 debut 'The Back Room'. Fifteen years on they have released six studio albums (with two of them going platinum), consistently sold out the enormadomes of the UK, and headlined major festivals world-wide. The band released their best-of 'Black Gold' in 2019, a record packed with hits including 'Bullets', 'Munich', 'Smokers Outside The Hospital Doors', 'Papillon', 'An End Has A Start'; and a testament to their enduring career so far. Dark, dramatic and powerful, Editors' intoxicating brand of alternative rock has put the Midlands firmly on the musical map and this Wolverhampton appearance will feel like an epic homecoming.
Arguably heirs to the Mondays' indie-dance crossover crown, FRIENDLY FIRES will bring their dancefloor igniting creations to party on Saturday night. With technicolour pop wonders like 'Skeleton Boy', 'Paris', 'Jump In The Pool', 'Hawaiian Air' and many more, the band's self-titled debut and its follow-up 'Pala' saw them take over charts all over the world and earn a Mercury Music Prize nomination in the process. Returning to the spotlight in 2019 with their acclaimed Top 20 charting LP 'Inflorescent' and some huge shows, Friendly Fires proved they are still one of the UK's hottest prospects.
Venerated all-time-greats: ECHO & THE BUNNYMEN, will take to the mainstage for an unforgettable festival performance. A band who hark back to Alan McGee's earliest days in music and have crossed paths with him ever since, expect Ian McCulloch & crew to deliver a hits-packed set to rival the best, laden with timeless treasures like 'The Cutter', 'The Back Of Love', 'The Killing Moon' and many more.
And marking the 25th anniversary of their magnificent 'All Change' album this year, seminal Creation Management signees CAST will be serving up some of its high-octane thrills and much more, with frontman and founder John Power guaranteed to be on typically electrifying form.
Elsewhere on the bill, more acquaintances from McGee's colourful past will be providing plenty of amplified blasts throughout the weekend. The recently revived SLEEPER will see Louise Wener and co. airing highlights from their critically acclaimed comeback album 'The Modern Age' plus countless classics cuts from the back catalogue; whereas a performance from ECHOBELLY will see Britpop-sister Sonya Madan dusting off era-defining gems like 'King Of The Kerb' and 'Great Things'. ASH, who are currently celebrating 25 years of pristine power-pop with their 'Teenage Wildlife' compilation, will be cruising through smashes like 'Girl From Mars' to 'Burn Baby Burn'. A set from GLASVEGAS – a band discovered by McGee in Glasgow in 2006 – will be back to remind us of the blistering shoegaze of their Mercury Music Prize nominated s/t debut, plus will be revealing tracks from their much anticipated 2021 record: 'Godspeed'. And, longstanding Leeds legends THE WEDDING PRESENT will see the ebullient David Gedge digging up gold from their hallowed back-catalogue of cult indie-rock reverence.
As a man with something of a reputation for spotting future talent, Creation Day will also showcase an array of new talent Alan McGee has earmarked as next-big-things in waiting. Selecting a cross section of bands from his current Creation 23 label, live sets by MARQUIS DRIVE, THE ILLICITS, CAT SFX, THE CLOCKWORKS, and SHAMBOLICS, plus HEAVY LUNGS (signed to Balley Records – the label of IDLES' Joe Talbot & Mark Bent) will all promise a tantalising glimpse of the potential stars of tomorrow.
With a line up already bustling with some of the most influential acts and rising stars, standby for further announcements in due course too…
Speaking about the inaugural Creation Day festival, Alan McGee says:
"I'm looking forward to this one, some of the best old bands with some of the best new bands. I can't wait to come and bring it all to Wolverhampton. Creation Day is the first time we have done anything like this since doing it for the kids. Hopefully we can do this every year."
A festival that testifies to a trailblazing history and a vibrant future, Creation Day promises to be the ultimate celebration of all things Creation, as orchestrated by the man, the myth and the legend behind it all…
Sat 29th May:
Happy Mondays
Echo & The Bunnymen
CAST
Black Grape
Echobelly
Shambolics
The Clockworks
The iLLicits

Sun 30th May:
Editors
Friendly Fires
ASH
Glasvegas
Sleeper
The Wedding Present
Heavy Lungs
Cat SFX
Marquis Drive

+ more TBA