Saturday March 28th – 7pm to 11pm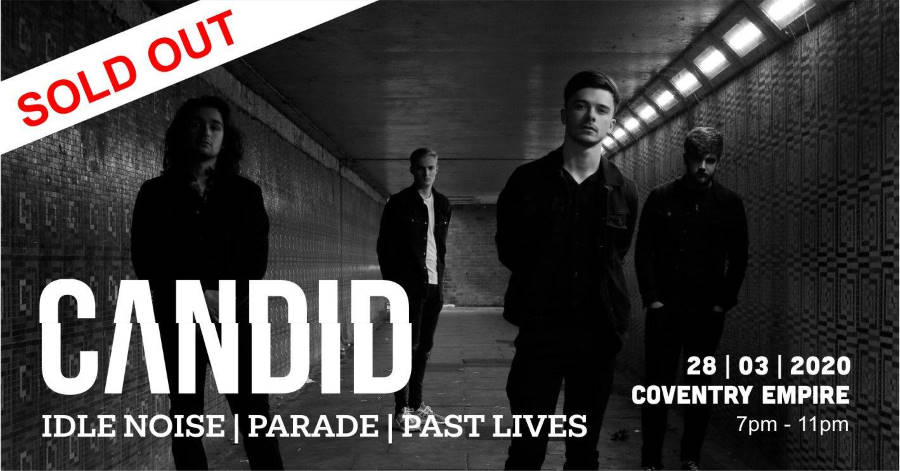 Coventry hailing 4-piece Candid deal in brutal guitar riffs, driving kit and unreserved lyrics, catering for a commanding live show. Having sold out 4 hometown shows and impressive support slots including Scouting For Girls, The Hoosiers and The Pale White, the boys have played a string of commercial guitar-heavy festivals such as Y-Not, Coombe Weekender and
Godiva Festival. With over 150,000 streams on Spotify, Candid's latest offering, titled Concrete Jungle, has been played on E4's Made In Chelsea.
Their upcoming show at Coventry Empire is a night for Candid to make a statement, playing the second-biggest venue in the city (one behind the Coventry's RICOH arena). The four local-lads follow in historic local footsteps, with homegrown icons The Specials and most recently The Enemy reaching international acclaim. It's time for Candid to take wake their sleeping city, and to put life back into the ghost town.
Elaborating on the band's biggest show to date, Candid (Rob) discusses:
"We need everyone who's ever been to one our gigs, thought of going to a gig, or wants to be a part of something special in unsigned West Midlands music to dig deep and find the time and a small £6 to support something that could mean a lot. We'll be making this the most special performance of our lives ensuring you receive every penny back and more."
Sold Out