Tuesday February 11th – 7:30pm to 11pm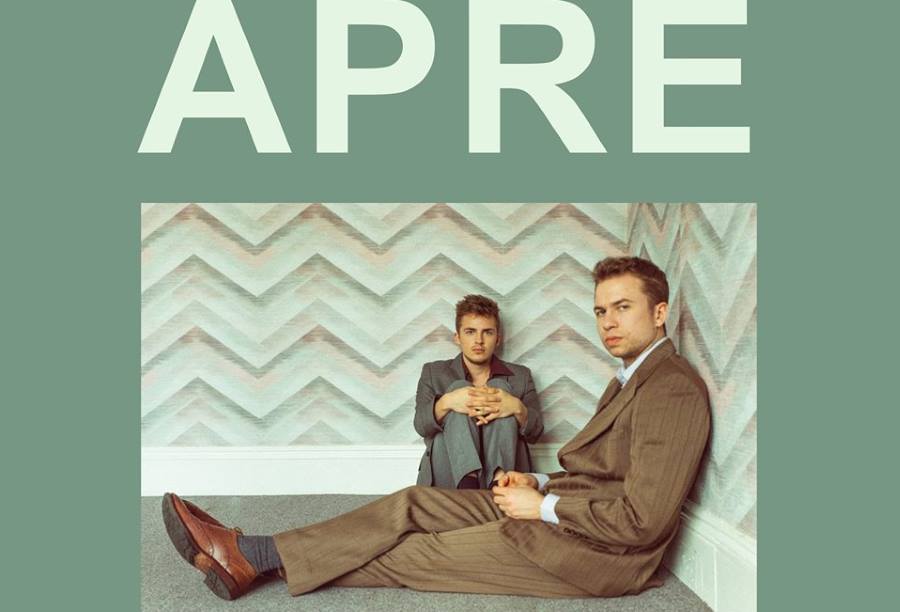 *This Show is a rescheduled show. All tickets remain valid from the original date of Weds 2nd October 2019*
APRE is an Alternative Wonky Indie Electronic pop duo from London.
APRE have today released their incredible new single 'Come Down', which is available now on Polydor Records and received its first play on Annie Mac's Radio 1 show. With a video directed by Will Hooper (Rex Orange County, Idles) picking up the story from where 'Gap Year 2008' left off, APRE have also confirmed details of 15-date autumn headline tour (which includes a Scala date on October 7th) and is on sale now. Having sold out Omeara and already opened for the likes of Sam Fender, Lany, Sea Girls and Bloxx, the band will take their hugely-accomplished live show across the festival scene this summer, with shows confirmed at the likes of Live at Leeds, Great Escape, Glastonbury and more below.
'Come Down' throws down the gauntlet for APRE as one of the UK's most exciting new bands – an affecting, alternative anthem-in-waiting which takes a rich mix of influences (from the baggy grooves of The Stone Roses to the euphoric, emotive pop of Tears for Fears) in examining the pressures of modern life. Produced by APRE and mixed by Rodaih Mcdonald (Savages, the xx), lyrically 'Come Down' is about – say the boys – "something taking over you that's out of control; having the realization of that; and trying to get back to where you were. Like everyday life grinding a person away from happiness but them not being able to see it until too late. 'Come Down' is cry for those who have pulled someone they love back down from that place."
Despite their ascending status, 'Come Down' is the clearest instance yet of APRE's innate potential to twist those darker, private moments into songs full of brains and heart. The band's own story begins in the unlikely setting of a West London chess club, where Charlie and Jules – co-vocalists, co-producers, multi-instrumentalists – were hooked up the owner Sue. "She knew that we shared the love of the same thing," recalls Charlie, which turned out to be everything from noughties outfits like Foals or Mystery Jets to 80s pinups Pet Shop Boys or The Police. Making ends meet however they could in the meantime, APRE – and that Ealing room – became an exercise in escape, utilising a DIY spirit and the sort of intimate sentiments they'd seldom voice in public to reach for the same level of world-conquering pop they were raised on.
If tracks like 'Come Down' capture times of crisis (emotional, social, generational), part of what makes APRE interesting is the way they engage with the madness. Their three, self-released EPs were conceptually linked not only by meditations on time, but a shrewd visual eye which looked at suburbia with a surreal twist. Even the band name itself begs questions. As with any genuinely-aspirational band, everything in APRE's world matters and yet to the outside eye, not everything makes total sense – which, in nonsensical times, is precisely the point ("none of us really know what we are doing anymore"). On 'Come Down', APRE take a situation charged with emotion and transform it into something universal, positive, and uplifting. It's a manifesto that's gotten them this far – imagining a stadium where stands a chess club – and looks set to take them a whole lot further in the twelve months ahead.