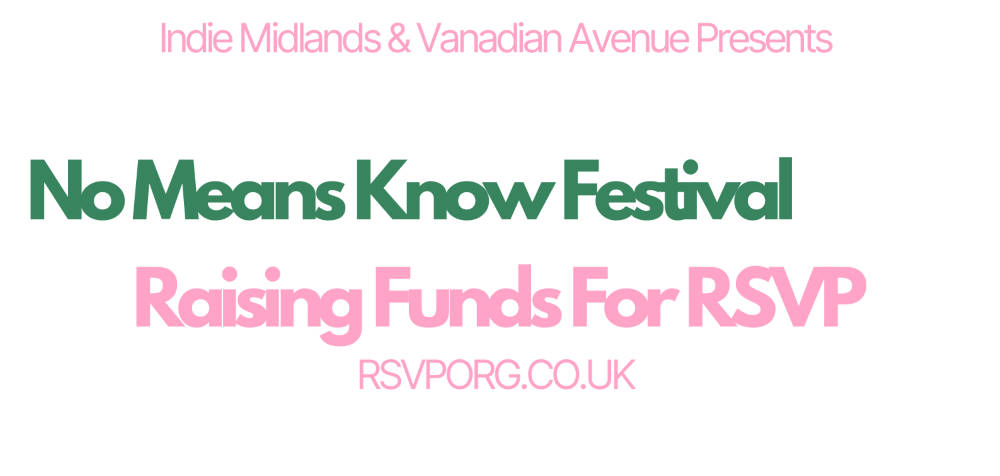 Indie Midlands & Vanadian Avenue presents No Means Know Festival
Raising funds for RSVP (Rape & Sexual Violence Project).
'At RSVP, we believe that everyone deserves a life free from sexual violence and abuse. We offer empathic services to support and inspire children and adults of all genders who have been subjected to sexual violence and abuse.
Our confidential services are delivered with compassion, professionalism and humanity. We're here to offer you the tools, and understanding, to enable you to overcome the effects of sexual violence for a hopeful and confident future.
You might feel nervous contacting us for support. Everyone at RSVP appreciates this and will treat you with respect, empathy and sensitivity.'
We are bringing you three days of live music including a trip down under to link up with some Australian based artists.
You can make a donation to RSVP here.
Introducing Saturday's Acts –
2:20pm – Hope Hardy
3:00pm – Tay Temple
3:40pm – Hayley Frances
Spoken Word/Poetry
4:20pm – Amy Lou
5:00pm – Anna Vince
5:40pm – NIMF
6:20pm – LUKA
7:00pm – Bugeye
7:40pm – Chloe Boehm
8:20pm – Beth Munroe
9:00pm – Artio
9:40pm – reli.ah