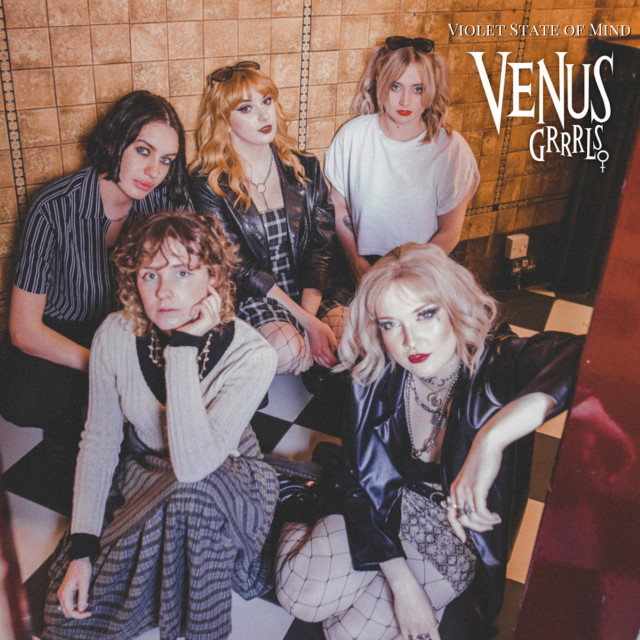 VENUS GRRRLS return with brand new single 'Violet State Of Mind'
Rebel rock chicks VENUS GRRRLS give us heavy beats and upbeat tempos in their latest release. The Leeds quintet share their first single of 2022 and we are sure it has been worth the wait for this incredible new song. Their last release was the 2021 EP 'Potions' that went down well with their fans.
The band continue to experiment with a mix of dreamy and gothic sounds to shape and develop their music and so far it has been a success. VENUS GRRRLS have discovered how to build on the momentum from 'Potions' and have come out stronger with their latest single.
The band have slowly become well known within the rock music scene and have bagged themselves a spot at Kendal Calling festival as well as a main stage slot at Truck Festival and these are just a few examples of how incredible they are and show that we can expect more explosive music and exciting times from the quintet in the near future.
'Violet State Of Mind' is full of electric energy and dark mysterious sounds. This track is one that fans could bang their heads to as it embraces rowdy, bouncy melodies that cook up a powerful storm with piercing sounds.
The single is fun and vibrant as it's all about being in a state of mind where you don't think, you just do whatever makes you happy and the bands free spirited approach to this song makes the words honest as well as humerous. I also feel that the song brings out a lot of sass from the quirky guitar riffs and noisy drumbeats.
The vocals on the track are stunning, a nice mix of both edgy and smooth. The harmonies are incredibly infectious as the girls blend a soft, rich tone. The band bring powerful and soulful sounds to their vocals on this track which helps to assert emotion and fiery passion.
VENUS GRRRLS explain that this single all about having fun with your mates in the sun or falling in love with yourself and someone else. The band also explain the song emphasises how to enjoy life and live in the moment with no fear and to delve into your soul and discover who you truly are.
I really like how the open-minded nature of the track helps to elevate the listeners mood alongside being a really catchy tune.
If you saw VENUS GRRRLS back in 2019 when Indie Midlands brought them to The Sunflower Lounge you will know how good they are. We look forward to hearing more infectious, vigorous music from the band in the near future.
'Violet State Of Mind' is out now.