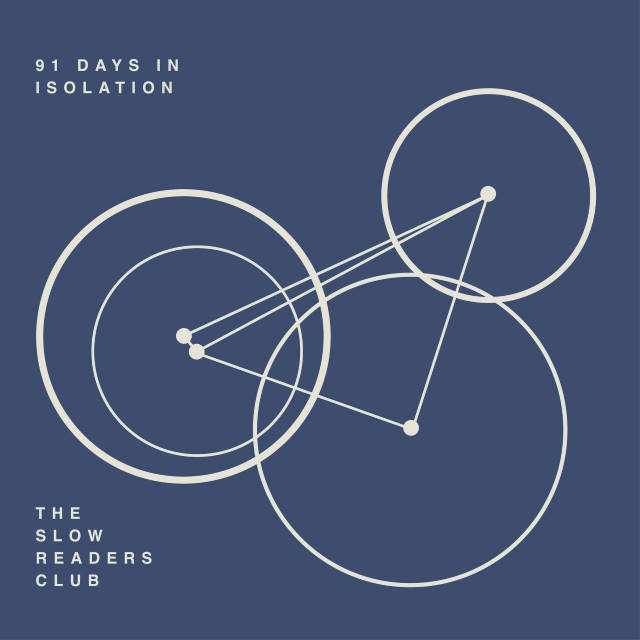 The Slow Readers club latest album '91 Days in Isolation' follows swiftly on from their March top 10 album 'The Joy of the Return'.
Like many they've been working from home and on the back of this outing they've been more productive than most 😉
Lead singer Aaron Starkie explains
"This collection of songs was written remotely during the UK Covid 19 lockdown. With each band member sharing ideas over the internet, the songs were pieced together at home. When the lockdown lifted we took the songs to Edwin Street Recording Studios in Bury and recorded this album with our producer Phil Bulleyment".
Starkie is also responsible for the impressive artwork that adorns the sleeve.
The band have put together an eight track album at just over 28 minutes, all killer no filler as they say.
The opening driven spiky guitar coupled with the rumbling bass and percussion of 'Barricades' contrasts with Starkie's at times haunting vocal. 'Everything I Own' carries on in much the same vein. 'Lost Summer', well we've all kind of had one of those one way or another. The Readers' have always managed to connect emotionally and 'Wanted Much More' is a play-again, and again, and again stand-out track that is a driving-in-the-dark melancholic yet a mood-boosting belter.
Engaging with fans has long been a Readers 'thing' and during the last few pretty grim months they've constantly found ways of staying connected with their dedicated fanbase.
These included exclusive lockdown videos often featuring videos of fan-selected cover songs, 'watch together' sessions of previous shows, fan listening parties of their previous albums and an unforgettable acoustic session surrounded by 21,000 vacant seats in a haunting and desolate Manchester Arena for the venue's 25th anniversary celebrations.
Any band that's managed to record and release material in the last few months deserves a lot of credit , but to put together an album as good as this, and remotely, well… as it's likely to be a pretty grim few months this album simultaneously offers pause for thought and manages to be uplifting too. Great work!
Kevin Cronin