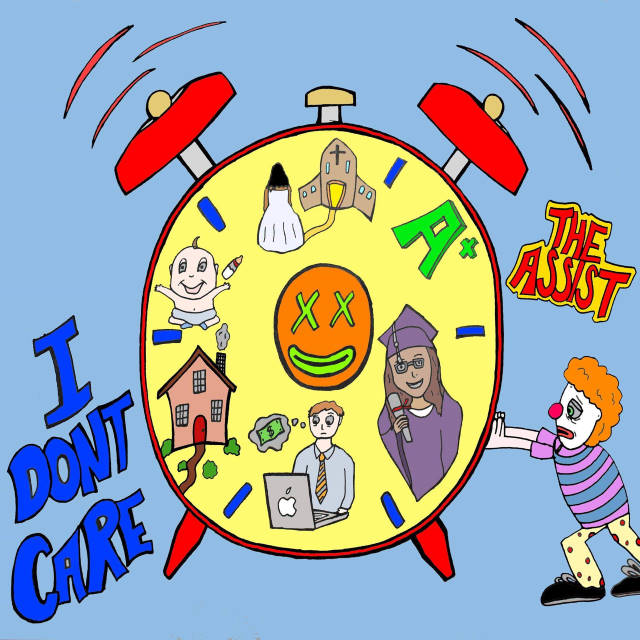 Walsall five-piece The Assist, who have shared the stage with the likes of Happy Mondays, Blossoms and RAT BOY, as well as ventured into Europe with Black Honey, are back with a new single, 'I Don't Care'. Their second single of the year after the vibrant and twangy 'It's Just A Dream Away', the band have returned with their usual high energy, fast paced dose of indie rock, with lyrics lambasting the societal pressures of modern life and calling for a more carefree state of mind.
The booming rhythmic bassline, the high energy guitar riffs and the punchy drum work, as well as the anthemic vocals from lead man Mikey Stanton, trademark to most of their work, highlight why the band have been rocking festivals such as Reading & Leeds, Isle of Wight and TRNSMT. The band have a distinct retro vibe to them, which is unsurprising considering their Britpop influences, not to mention the Stone Roses, with many of their tunes filled with Squire-like guitar sounds, showcased in their brilliant 2018 EP, 'Lost'
Another staple of the Britpop era were how the catchy, bouncy, danceable tunes were paired with well woven and rather profound lyricism many a time about escaping the ills and struggles of life. The band, on this particular song and many of their work, captures this element perfectly. "Is it wrong if I just don't care" Mikey sings out with plenty of boisterous bravado, capturing the rebellious spirit of the song perfectly.
"The tune itself speaks of a lack of desire to meet societies expectations. The supposed milestones we are expected to achieve by a particular time in our lives." Guitarist Ryan Stanton said about the tune, asserting its lyrical ethos.
The track has featured on BBC Introducing and having starred on TV's Soccer AM before, 'I Don't Care' has already been placed on the show's new music playlist. It is undoubtable that they are one of the UK's most established underground groups, and if their recent releases are anything to go by, they've certainly got the verve to go further.