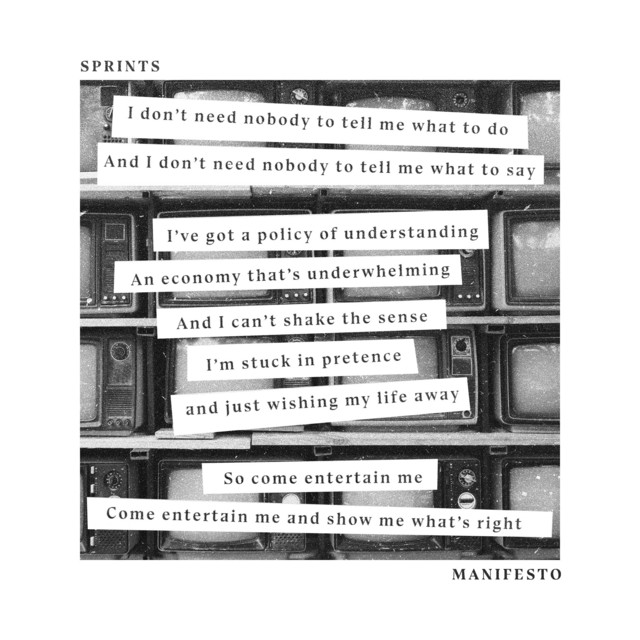 With the release of their new single 'Manifesto' – preceding their debut EP of the same name coming in 2021 – Sprints are hoping to solidify their status as one of Ireland's most exciting new bands. My first impressions of this track say: yes, they certainly are.
I could instantly feel a 70's rock vibe about the song, but with lead singer and songwriter Karla Chubb's punchy vocals, along with some brilliant lyrics – "I got a policy of understanding / an economy that's underwhelming" – Sprints feel like a step above the crowd.
I love the frenetic pace of the track, along with the rousing bass and the opening drums, which give the song a distinctive DIY feel. Although brilliantly produced by Daniel Fox (Girl Band), 'Manifesto' would also absolutely GO OFF in a rock club or at a show. If they come to Birmingham any time soon, I will definitely be picking up some tickets to go and see them live.
Speaking of the track, Karla says: "Manifesto is all about control, and the seeming lack of it we have sometimes – control over our own lives, our own bodies, our own societies. Written during the time of the Repeal the 8th referendum in Ireland, it's a call for equality. Life can feel like it's unravelling around you. We see our countries fall in and out of economic crisis, we see the homeless crisis worsen by the day, we see the rapid rise of addiction and drug problems, and nothing is being done about, yet when it comes to telling women what they can do with their own bodies, that's when people (the bigots) step in and show up? It baffled me.
Manifesto is about turning your cheek to the critics and bigots and those who judge and doubt, to try to shake the shackles of everyday existence and mundanity and go carve your own path."