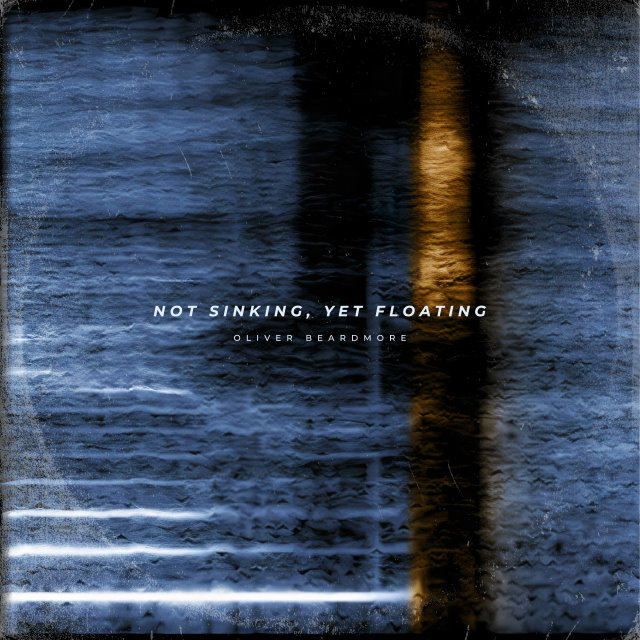 I was first exposed to the dreamy wonders of Oliver Beardmore's music when I had the pleasure of reviewing his single 'Not Sinking, Yet Floating' and it's safe to say I fell in love with the melodic, noisey, soft atmosphere that his sensational music has to offer. After listening to his latest EP of the same name, it is reassuring and affirming to know that the future of music is not only promising yet rich with sensational flavours of striking influences.
The first track on the EP comes in the form of 'I'm Sure You Know'. Wasting no time when it comes to melodic brilliance, this track offers a more hard edged approach to songwriting with its roaring guitars and glistening cymbals. The track provides a gleaming start to the EP and its clear to hear the shoegazed influences that have been sewed into its creation. Following this, we have two more paced efforts from Beardmore. It is here where we see his soothing voice shine, where a return to a 'silky songwriting' becomes apparent.
There is also a strong case to be made in the use of typical 'indie' influences in Beardmore's music. Despite some of the modern musical contemporaries refusing to expand on their musical outputs: sticking with the monotonous jangly guitar lines, 'we think we're Oasis' attitudes and americanised covers of old Arctic Monkeys songs, it is evident that Oliver Beardmore is aiming to move forward in his music whilst taking the best conditions of each genre of music and blending them together to create something that feels special and unique. For this, I highly commend Oliver Beardmore as he stands out as an amazing talent. He is a sensational songwriter. There is little more to be said than that.
Coming in at 4th on the EP is the brilliant 'Not Sinking, Yet Floating'. This was my first instance of being exposed to Beardmore's music and it remains my current favourite (and there are a lot of favourites to choose from…). The beautiful guitar riff, lying in the middle of the mix, gently guides the song along – seemingly placing reality into slow motion. It's a truly beautiful track.
To close the EP, we are gifted the 6 minute, anthemic musical explosion of 'Closer'. Immediately, the first thing that hits you as the small start builds up into this huge wall of sounds is actually sonic comparisons to the Joy Division album of the same name. I'm not too sure if this was the intended approach of Beardmore, but certainly the musical arrangements in Joy Division songs such as 'Twenty Four Hours' and 'Decades' can be somehow compared to the closing track on the EP. Toward the end of the song, and sadly the end of the EP, guitars roar into a huge, atmospheric, wall of sound (much like My Bloody Valentine and early 90's outfit Ride).
It's a beautiful track and brings the EP to a fitting close. Sensational.