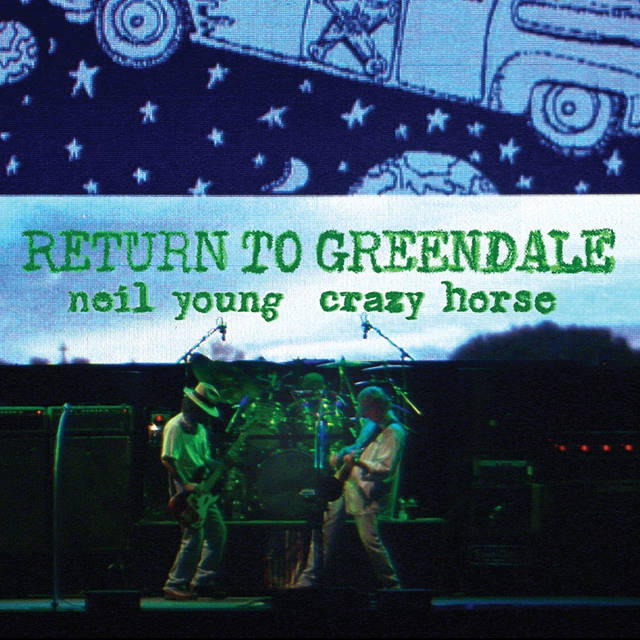 Often the reviews I am given are for new and emerging artists so it was a nice change to be asked to review the latest offering from a true music icon Neil Young who turns 75 today (12th November). Neil may be seen as a hairy old rocker in some quarters but he has been an influential artist in a career spanning around 55 years. He has released an incredible 40 solo albums as well as his early work with Buffalo Springfield and his on off work with supergroup Crosby, Stills, Nash and Young.
His latest offering is his ninth live album, none of which are included in his 40 solo albums count. It is a live concert version of his 2003 album Greendale imaginatively titled Return to Greendale. This was recorded back then and has now been deemed fit to release, it's not a recording from a recent tour. It features Neil's longtime collaborators Crazy Horse who have featured on about a dozen of his albums over the years and released several albums in their own right. This recording features their ever present rhythm section of bassist Billy Talbot and drummer Ralph Molina. This lineup was completed by guitarist and keyboard player Frank "Poncho" Sampedro who clocked up a mere 35 years in the band compared to well over half a century each from Billy and Ralph. So this is pretty much the definitive line up of Neil Young and Crazy Horse.

Greendale was a 10 track rock opera based based on the Green family from a fictional Californian seaside town and looked at themes such as corruption, environmentalism and mass media consolidation. It had mixed reviews but this is a faithful live recreation of the piece by four vastly experienced and accomplished musicians.

Rock Operas have always been a hit or miss affair. Some may compare them to concept albums, others are virtual musicals and some have been staged over the years as a concert or a full performed theatre musical. The Who are a band who always spring to mind when you mention rock operas. Their 1969 opus 'Tommy' is perhaps the most seminal ever with 1973's 'Quadrophenia' not far behind. The Pretty Things' 1968 work 'S.F Sorrow' is another work well worth checking out and more recently many will have bought Green Day's 'American Idiot' from 2004 which has since been expanded and turned into a full stage musical too.

Return to Greendale contains 10 tracks clocking in at a weighty playing time of over 70 minutes with three tracks ranging from between 10 to 13 minutes in length so it isn't a light listen but neither is it an overblown piece of self indulgence from an artist with nothing left to prove. The musicianship as you expect is top drawer. Neil's whimsical poetic songs help to highlight his still strong voice and typically intelligent lyrics.

Album opener Falling From Above is a great bluesy workout. Double E opens with a distorted rock guitar and bares a resemblance to 'Revolution' by The Beatles and ends with a sing-a-long "Living In the Summer of Love". Devil's Sidewalk has a late 1960's like Stones riff and a gospely chorus and even name checks John Lennon ending with one of Neil's distinctive harmonica solos.

Leave the Driving continues in a similar reign as Neil was clearly in a groove and playing to his strengths when composing this album. Carmichael is the first of the album's monster 10 minute plus tracks and takes well over two minutes before we hear any vocals but when you have performers of this quality playing a lengthy instrumental opening is no chore. The song goes into another lengthy instrumental break before Neil comes to a mainly spoken part about Carmichael's funeral. The character is apparently a policeman killed in the line of duty. Neil has always had a great knack for exploring enduringly relevant and challenging subjects in his lyrics.

Bandit is one of those sparse reflective tracks which have been a trademark staple of Neil's legendary career and could easily fit onto any of his most acclaimed albums. Again his lyrics are at another level to those many artists would dream of reaching at just one stage in their career let alone like Neil was still churning out at nearly 40 years into his career here.
Grandpa's Interview is the longest track on this album at over 13 minutes and again opens with a two minute plus rock out with Neil's distinctive distorted guitar to the fore. The track also show cases Ralph Molina's timeless drumming in the many lengthy instrumental breaks. It deals with an elderly man's reaction to being doorstepped by TV news channels which again is a uniquely original idea.
Bringin' Down Dinner is by contrast some way the album's shortest track and follows on from the previous track lyrically and storywise. Frank's hammond organ is the backbone to this gospel tinged little gem.

Sun Green is the last of the trio of monster tracks, this clocking in at over 12 minutes but the vocals kick in quickly and deal with protesting which is again very relevant in 2020. It is sung through a megaphone or a megaphone vocal effect to demonstrate the protestor's voice initially and tells the story of Sun who was Grandpa's granddaughter, with an enduring blues grove throughout.
Be The Rain is a song about environmental concerns with a great point/counter point structure and again would be as appropriate be it 1989, 2003 or 2020. We have all heard these concerns for many years but Neil again captures the sentiment perfectly with his lyrics.

Return To Greendale wasn't a Neil Young album which I had heard in it's original form, or new live version, before but it is a bit of a hidden gem and shouldn't be overlooked in his legendary back catalogue.