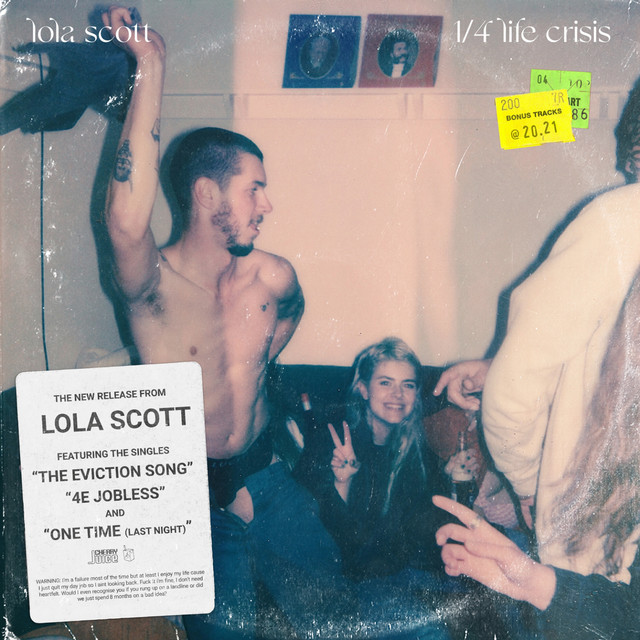 Sydney's Lola Scott returns today with new single 'The Eviction Song'. It's the lead song from her upcoming debut EP '1/4 Life Crisis' which is out in 2021.
Talking about the song Scott had the following to say:
"The '1/4 Life Crisis' EP is a biographical recount of events that happened in my life after getting out of a long term relationship and moving back into a shared house full of benders. Earlier this year my housemates and I were evicted from that house. We're not sure what for but can only assume all the house parties and noise complaints didn't help. When I wrote 'Eviction Song' it was my 6th move in the last four years (add another 2 moves since then). My 1/4 life crisis has taught me that there aren't many stable things in life other than those ride or die friendships that feel like family (+family). The more emotional breakdowns we faced together as housemates, the closer we got to each other and luckily the eviction did not kill our friendships. And a couple of us have found a new place to continue the benders that probably got us kicked out in the first place. You can never please everyone so just treat people right and enjoy the time you get to spend with your close friends."
'The Eviction Song' is a lively indie pop track that serves as a perfect vehicle for Scott's honeyed vocal. Whilst the verses are catchy and modern sounding it's the lush retro dream pop-esque chorus that will quickly win your heart. It's a song full of melody and sweet hooks and is the kind of release that can really launch an artist in to the spotlight. And hopefully it does as it's that good.
I eagerly await the EP release.
Follow Lola Scott on Facebook.
Morph