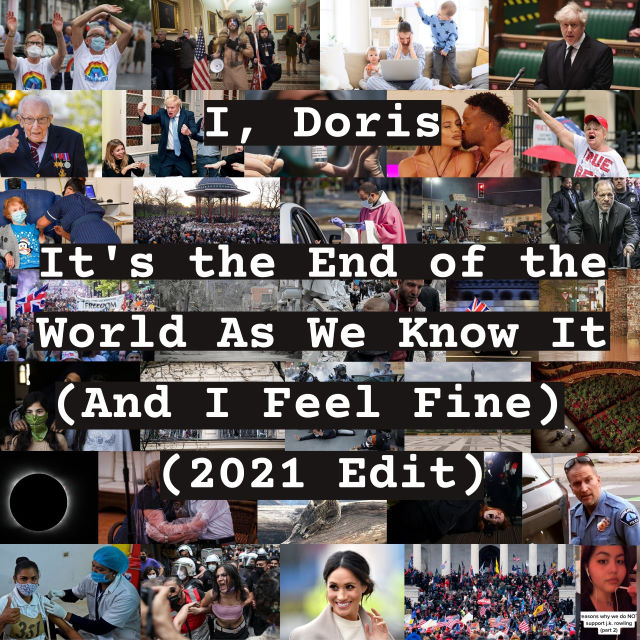 I saw R.E.M. play Glastonbury in 1999. Great set and one of the highlight's was 'It's The End Of The World As We Know It (And I Feel Fine)'. I remember standing there in awe, wondering how Michael Stipe could sing the fast paced lyrics so well whilst walking along the front of the crowd and shaking hands with the mass of people pressed up against the barrier, and all this whilst heavily stoned. Then I remembered it was me who was heavily stoned, but still, an impressive feat.
Anway, back to modern day and I didn't think 22 years later I would be hearing a new version of the song made by some school dinner ladies. Ok, joking aside, they are not school dinner ladies, it's just a vibe they intentionally give off with their attire. They are of course I, Doris. And if you've experienced I, Doris before you will know that behind their playful 'mummycore' genre they always deliver an important message. And their new version of 'It's The End…', released to raise money for UK charity Help Musicians, is as important as it is enjoyable.
With the lyrics re-written to reflect on our present day issues of things like Covid (you may have heard it mentioned a couple of times the last 18 months), Brexit, Trump, Black Lives Matter etc, it's a witty,yet poignant rendering of a classic indie anthem and the Doris' deserve full praise for their rendition.
The track is part of a compilation album that has been released that features 40 covers of R.E.M. songs to raise money for Help Musicians and if you would like to purchase it you can do so here.
Enjoy the lyric video below.
Follow I, Doris on Facebook.