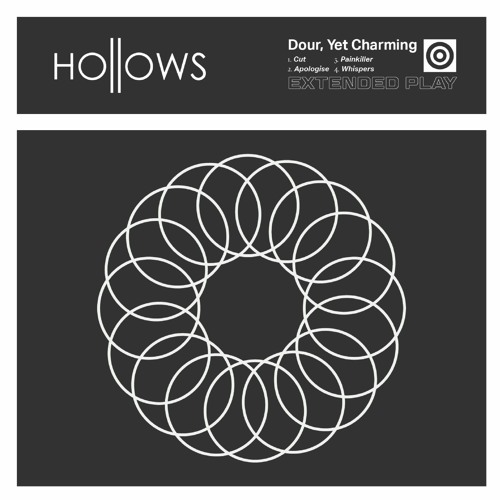 On first listen of Hollows' 'Dour, Yet Charming' it's clear that the indie four-piece has a knack for creating catchy hooks in the ever-vague categories of indie and alternative. From the roaring, triumphant 'Cut' we get the mellow tones of 'Apologise', and overall the brief EP – made up of just four songs over 15 minutes – has an impressive ebb and flow that shows the versatility of the band.
After the 'painkiller romance' of the third track we're treated to an incredible highlight of energy and pumping drums on the closer, called 'Whispers', which showcases the influences very clearly, ranging from Franz Ferdinand to The Killers and Muse, with the latter two being particularly noticeable given the dreamy reverberation on the singing and the bombastic guitar solo that packs a real punch.

Whether you're into slow indie or a real banger of a rock track, Hollows has a lot in their locker clearly, which makes them incredibly appealing as a live act… when we're allowed to attend gigs again. 'Dour, Yet Charming' might be a brief affair, but the title is incredibly apt, as there's a lot going on here to ensure you don't get the full experience until you listen at least a few times through.