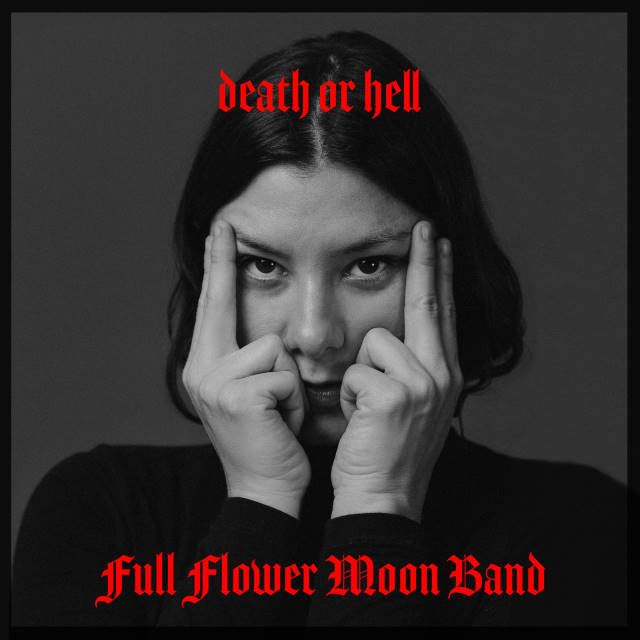 Brisbane's Full Flower Moon Band are here with their latest EP 'Death or Hell' and it's just as swaggeringly cool as you'd guess.
Brainchild of Kate 'Babyshakes' Dillon, Full Flower Moon Band have released their debut EP 'Death or Hell' and it is crammed full of rocky driving guitars and pounding percussion.
Featuring the singles 'New Rocket' and 'Meet Ya' this EP is set to be a perfect introduction to a band with the world at their feet.
Juxtaposed against all the grinding rock elements are Babyshakes' vocals which adds a softer hue. Similar the effect Ellie Roswell's vocal has on Wolf Alice's sound or Karen O from Yeah Yeah Yeahs.
Each track on 'Death or Hell' comes through with thriving bassline which hits you like a gut punch. Then the guitars come through and force your face into that snarling grin you make when the feel is just right.
'Roadie' kicks the EP off in the perfect way. Introducing you to that relentless, uber-cool, rock vibe which keeps its foot on the gas all the way through.
Fans of the band will already be familiar with the foot stomping magnetism of singles 'New Rocket' and 'Meet Ya'.
But then 'Sleep' rounds off the four-track release and it comes in with psychedelic rocky vibes which marry up perfectly with Babyshakes vocal to create something extra special. For me, this track is the star on the EP, it's a slight detachment from the others which makes it all the more intriguing.
In actual fact, 'Death or Hell' probably raises more questions than it answers.
With the inclusion of a track like 'Sleep' at the end it leaves you deliciously suspended like a Hollywood cliff-hanger wondering whether that psychedelic sound is something we'll hear more of going forwards.
I can't wait to find out.