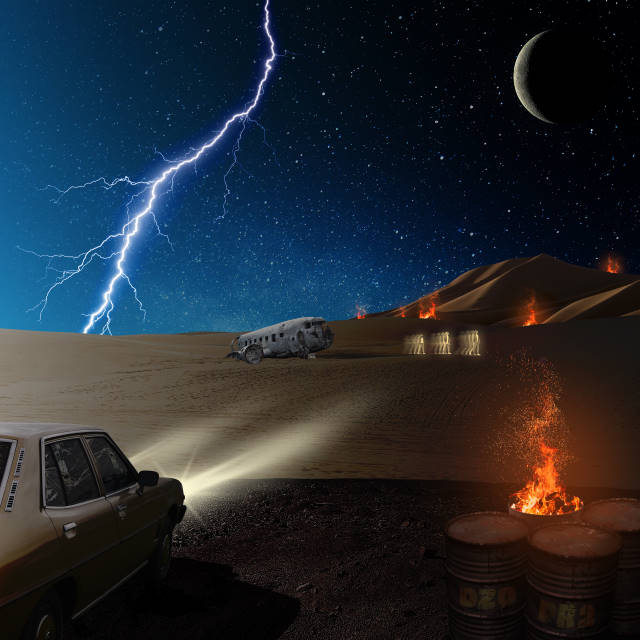 Before you start listening to DZ Deathrays' Positive Rising: Part 2 take a moment and put the album cover next to the 2019 release Positive Rising: Part 1. The resulting image depicts a desolate desert landscape transitioning from day to night. The darkening of the sky, the lightning strike and the fires burning give you a good indicator for what to expect in DZ Deathrays' latest release.
There is an overall darker and rockier sound to the album, which is showcased immediately with the opening track Skeleton Key. It's a slow burner and draws you in as more elements are introduced throughout the song and by the end, you're ready for more – enter Fear the Anchor: a fast-paced, non-stop 'chant' with accompanying vocals from Ecca Vandal that is all you could want from an anti-systemic protest song.
The next few tracks continue to develop the sound in their own way. All Or Nothing, the lead single, emphasises the importance of guitars throughout the album. Kerosene, as the name suggests, is volatile and ignites into a hard-hitting song while Fired Up is one of those songs that just works. It feels like a well-balanced combination of all the sounds heard in the album that results in a standout track.
While many albums fall into the trap of overloading the start with the bigger songs leaving more to be desired in the rest of the album that's not the case here. The mid-section of Part 2 is rich and really defines the album. It's this segment where DZ embrace the darker theme with some pulsating riffs (Yes, I know that's pointing out the obvious seeing as one of the songs is called Riff City!), catchy choruses and overall great heavier songs.
Part 2 is wrapped up rather aptly with the title track. It's a long send off to a long project that gives the listener time to reflect on everything that they have just heard. Most listeners will find there is something they can relate to in this album as DZ Deathrays' journey through the current political landscape is approached from many different points of view.
Personally, I feel that the tone used in this album really suits the band. The instruments work well in harmony and don't fight over each other – which they have been guilty of in past releases. This added control and the deeper accompanying sounds help Parson's vocals pop out more and show off his lyricism and range. Two-part albums are no mean feat and DZ Deathrays have produced a fantastic and fitting end with Positive Rising: Part 2.
DZ Deathray's Positive Rising: Part 2 is out 9th July via Alcopop! Records.