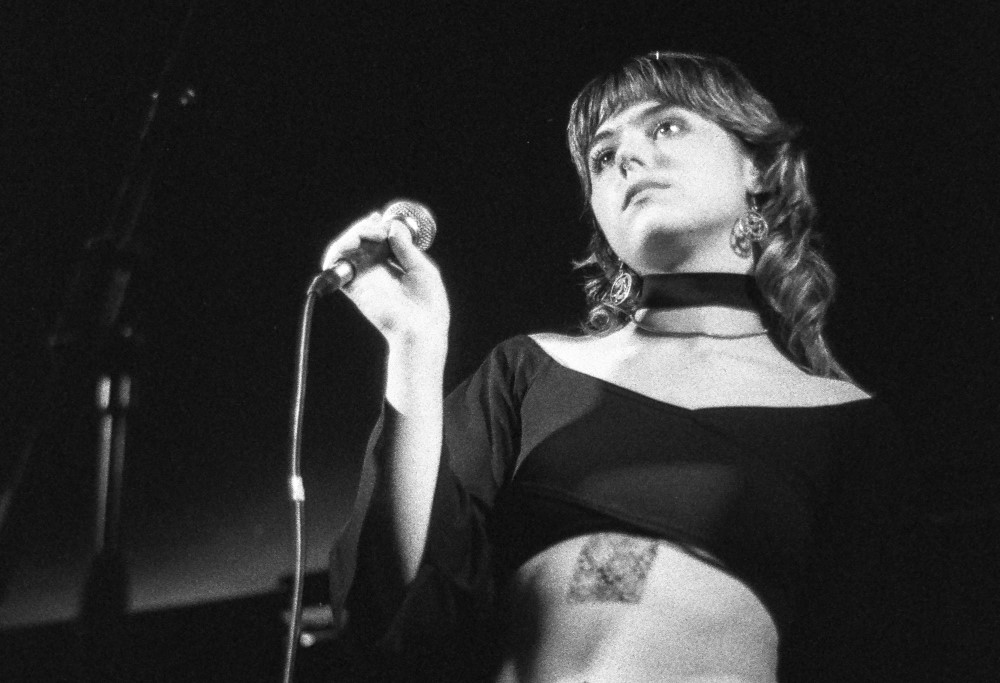 Hailing from Manchester, Ruby Joyce brings modern youth culture in a new digestible take of dream pop and shoegaze rhythm. Inspired by the likes of The Smiths, The Sundays, Alvvays and Holly Humberstone, Ruby normalises the vulnerabilities of insecurity, body-image, and the helplessness found in observing her closest friends' mental health. A journey that proves emotive, the artist has defined her almost neo-soul sound with anticipated release: 'BOY PITCH'.
Backed by a band of highly accomplished musicians, Ruby's live performance captivates with "spellbinding vocals" and "sultry, emotional records with an unwavering intrigue". After being featured on The Voice UK, shortlisted for Truck Festival 2022, supporting Eva Lazarus at YES Manchester on the Brandy Kisses tour, Oculate UK states that "it seems clear… Ruby Joyce is a name that will become familiar to many".
Indie Midlands: Can you describe yourself, and the type of music you release to the world?
Ruby Joyce: My songs are so honest that releasing them feels like I'm plastering my diary entries on a billboard. But that's fine with me – I'm a gossip anyway. Most ideas come to me in daydreams, of which I have many. Most of my influences now have kids my age (or older). Most of my lyrics find better ways of saying "I'm sad", or "you're sad", or "'let's be sad together". I'm actually a lot less sad than I was – I guess because I've scribbled the misery out of me.
Indie Midlands: Your sound is quite indie-pop and melodic, where do you draw your sonic influences from?
Ruby Joyce: I'm a big time fan of the 80s/90s eras of The Smiths, The Sundays and Cocteau Twins. Mix that ethereal soundscape with the prowess of Holly Humberstone and Alvvays, and my music would appear along that spectrum.
Indie Midlands: How did the melody for 'BOY PITCH' come to you?
Ruby Joyce: I was sitting in the bedroom of my guitarist in our first year university halls. It was most likely around 3am and he decided to throw this beautifully weird chord progression at me. I was momentarily baffled and then accepted the challenge. Eventually I landed on what is now the bridge and we shared expressions of both exasperation and amazement. The lyrics and the different sections of 'BOY PITCH' fell out of both of us in about 40 minutes.
Indie Midlands: How does it differ from previous releases?
Ruby Joyce: 'BOY PITCH' is the most lyrically complex thing I've written, in terms of narrative. I wanted to replicate conversations I'd had with my best friend about her mental health, and how I've realised I'm no psychiatrist – so instead of offering her unqualified advice, I take her mind off things by talking about boys. When she heard it for the first time, I gave no context whatsoever and it took two lines for her to ask, "Is this about us?". Harmonically it's absolutely fascinating, but I can't take credit for that. It's a melange of chaotic ideas that forms one of my proudest musical achievements.
Indie Midlands: Do you have any plans for this track and your live sets?
Ruby Joyce: I can't see a time where 'BOY PITCH' isn't in the live set. Not only is it a favourite of mine and the band, it always gets a reaction from the crowd. We always play it last and I've never not seen the bridge take everyone by surprise.
Indie Midlands: With real experiences and real people underpinning the narrative of this release, do you find it difficult or enlightening to write about personal perspectives?
Ruby Joyce: Completely enlightening. I do need time to process things before I can write about them, or else I will end up with the most basic lyrics ever. But, once emotions have marinated in my subconscious, songwriting becomes better than therapy for self-regulating and it's so so so much cheaper.
Indie Midlands: How do you hope people relate to this track?
Ruby Joyce: I honestly wouldn't be surprised if a lot of girls don't relate directly to this song. It felt very niche and personal at the time of writing, but I have a feeling a lot of us avoid the Big Chats with our friends out of fear of saying the wrong thing. I think we definitely use frivolous relationships in one way or another to ignore the real, deeply rooted problems we all have. I was brutal with myself when recognising my shortfalls in this friendship, but now I can accept that I was doing my best to help her when I was chatting absolute nonsense about a bloke, and that's all that matters.
Indie Midlands: Do you have any plans or future releases scheduled for the next year?
Ruby Joyce: I'm immediately getting back in the studio to work on the next single. The band and I have so much to record, but I'm also balancing a bunch of live shows. We'll be celebrating the release of 'BOY PITCH' on 17th March at Deaf Institute, Manchester. If that's too short notice, I'll be at Night & Day Cafe, Manchester on 19th April. Spring will bring more shows in London, so drop me a follow on Instagram (@rxbyjoyce) to stay in the loop.
'BOY PITCH' is out March 17th.