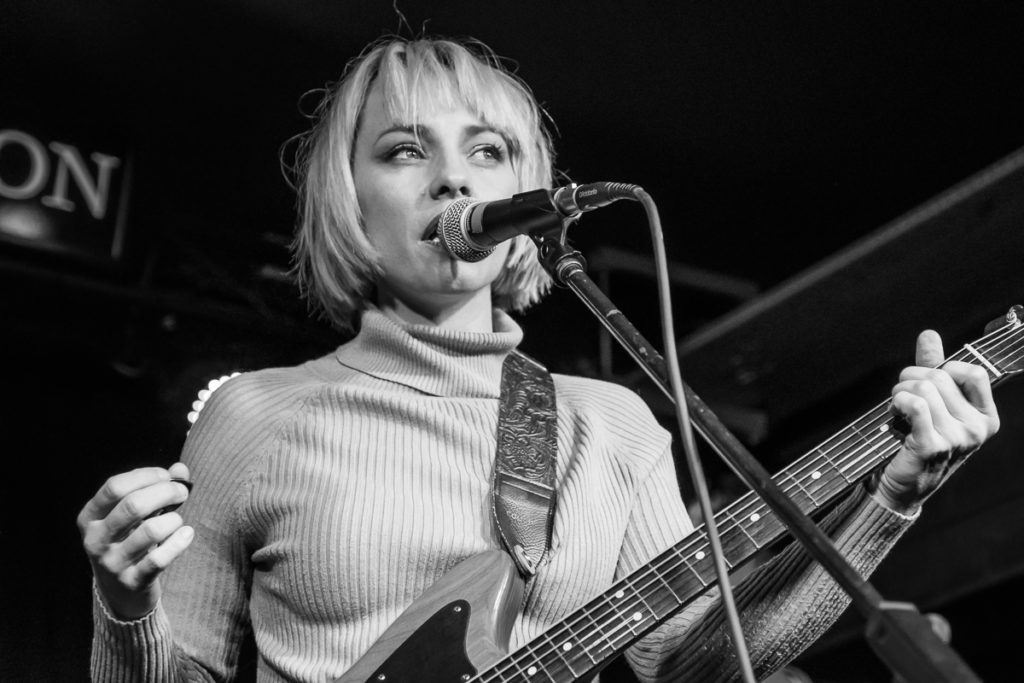 Australian artist Olivia Bartley, better known by her stage name of Olympia, has recently been on tour in the UK supporting Julia Jacklin. Indie Midlands caught up with Olivia before the show to talk football, Francis Bacon, song-writing and how not to get press on nails.
Indie Midlands: You released your debut album 'Self Talk' back in 2016 and now three years later you are set to release your follow up album, so what have you been doing in those three years?
Olivia: I thought maybe I'd be a soccer player in the three years between. I was thinking about what colour would look good on me, pick a jersey and pick a team, I was starting aesthetically working backwards. So I put a little bit of time in to that… No, I obviously didn't.
We toured for a year, we had quite a long cycle on the album, which was great, and then I spent 12 months just dedicated to writing the album. I cut myself off from social media and the internet and would keep cutting myself off from things as deadlines approached. I started the writing process and made a conscious decision about the direction I wanted to take and what I wanted to explore on the record. I wanted to make this visceral record where I feel a lot . We demoed a lot and also we pulled everything apart again in the studio…
Indie Midlands: What other artists inspire your song writing?
Olivia: For this album I was looking at visual artists like Francis Bacon. I just thought I'm really interested in trying to get new ideas or a new approach because everyone uses words, we all watch X-Factor and we understand how music works, but how can we make something new or interesting? So I looked at painting because it's an older tradition maybe than music. Definitely in Australia it's far more respected. So I thought what do painters do? How is there any difference between Basquiat or Pollock or Francis Bacon? I really enjoyed reading his interviews where he talked about risk and how you've got to bring the audience back to their nervous system. I was like yeah, that's so exciting. And there's so much thought that goes in to how he's going to approach his work that really inspires me because I think I take it also very seriously, you know the language we use or the colours we use for the record, like how we play the instruments and what type of instruments, so I would say Francis Bacon is a big one.
Indie Midlands: Your latest single 'Shoot To Forget', in the video you play a number of different characters, so what was the ideas for the video and that song?
Olivia: I let the director listen to the song and come up with the treatment herself and I loved it so much. I've had the most incredible people to work with and I love seeing what they come up with and I was really inspired by Leilani's (Croucher) idea. Leilani did a commercial in Australia for Berlei bra's and they had these tennis balls that were breasts bouncing around. It was one of the 10 most complained about commercials. I thought yeah, she sounds like the perfect fit, like, let's challenge someone. But Leilani said in her treatment that it's a love letter to all the parts we have to repress and hide away, all these different characters. They're extreme versions of each character.
Indie Midlands: Who was your favourite character in the video?
Olivia: The Tonya Harding character terrified me, and I definitely encouraged that through the treatment process so I had no recourse!
Indie Midlands: How is touring the UK compared to Australia?
Olivia: It's incredibly encouraging playing the UK, it feels like people are listening to lyricists and bands, that feels important here and it's so great to come and I feel so happy for the work we've put in to the record when it feels like people are listening to it and hearing it.
Indie Midlands: How did this tour with Julia Jacklin come around? Did you know her before hand or was it management putting artists together?
Olivia: Julia actually came to one of my shows and she sent me a lovely message, so that's how it started.
Indie Midlands: So you hadn't met each other before?
Olivia: No, but Julia's amazing. She's so generous, she's incredibly gracious. A lot to admire.
Indie Midlands: Any tips to survive touring?
Olivia: You've got to be healthy. I've started to follow a lot of people who exercise professionally on Instagram.
Indie Midlands: How much does just sitting about like now (pre-show) take out of you? Does that take more out of you than actually being on stage?
Olivia: It can because you can get distracted and it's important to stay focused on the show which is paramount. Today driving past shops and seeing things I haven't seen before and thinking maybe I need press on nails for the show, and we don't have Primark (in Australia) and people keep saying go in there… So yeah, don't get press on nails. They get stuck on and they hurt! I'd be really disappointed if I came off stage and thought I'd peaked at breakfast talking shit to the barista about milk, you know? The priority is the show and the audience and although it's not my my audience, it's Julia's…
Indie Midlands: You still want to win them over.
Olivia: Yeah, that'd be nice. Better than them throwing things at me. Unless it's money…
Indie Midlands: The music industry is very male dominated, with female artists, sound engineers, promoters etc. not being given the same respect as their male counterparts. Do you feel this has improved during your time in music or is it still as bad as it ever was?
Olivia: I do see it. For me the most important thing is I think I'm an artist, I don't think I'm a woman artist, and what I'm doing is quite unique and often for me sexism is when people try and put me in a box. I'll often get trolls who will say she's not even the best guitarist in the world when I'm not trying to be the best guitarist in the world. For me that's like a tool and it's part of what I'm doing but it's not paramount, I'm not thinking that I'm going to walk in to a music store and see a poster of me with my own guitar strings. But I love it and I love exploring music and I want to get better for myself, so I think I'm quite nuanced, and maybe we all are. Something that frustrates me is you just get people say what type of music do you play and you've got one word to win them over. And they are all terrible words like pop, rock, indie, what does that mean? And I just think that the whole discussion is about being more open and listening to people.
Follow Olympia on Facebook
Interview by Morph & Bryony Williams
Write up by Morph