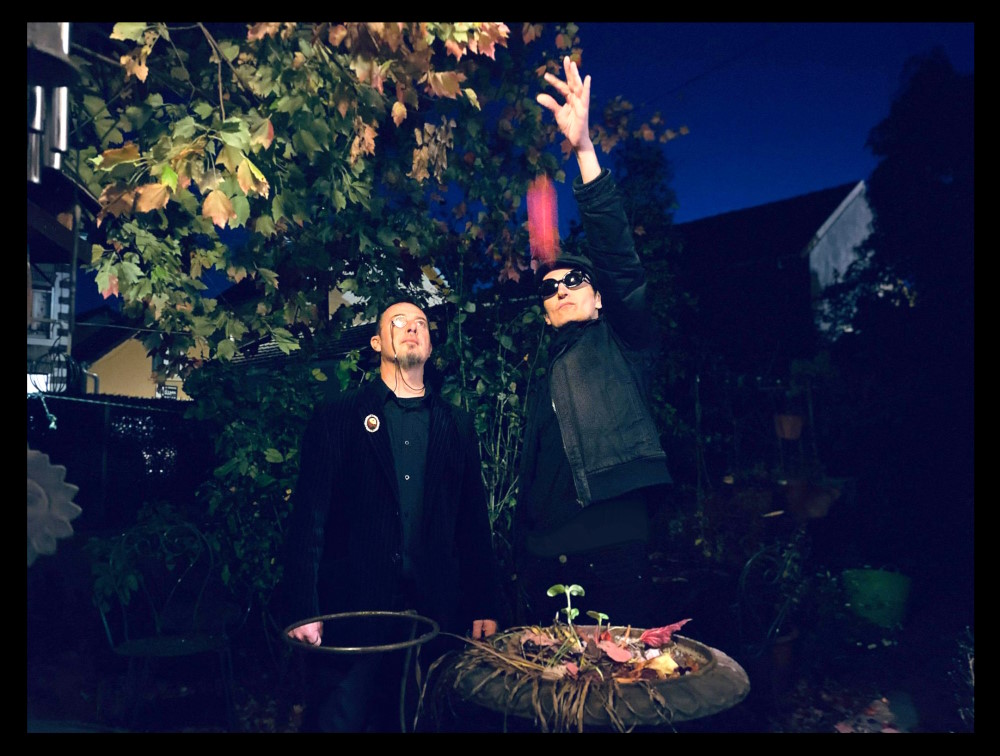 Golem Dance Cult, the visionary music project helmed by Charles Why (known for his work with Nexus and L-DOPA) and Laur (renowned for contributions to Sparkling Bombs, Kevin K Band, Vague Scare, and more), proudly releases their inaugural album, 'Legend of the Bleeding Heart' – buy now on Bandcamp.
Golem Dance Cult's sonic landscape is a compelling fusion of Industrial Dance Rock, boasting an amalgamation of mechanical, ritualistic grooves intertwined with soulful intensity. Departing from the rigid conventions of the rock genre, the band employs an electronic approach in layering their tracks. An overriding principle embraced by the band is the prioritisation of atmosphere and energy over flawless precision, yielding a profoundly captivating and raw musical journey. We had the opportunity to chat following the outfits' new release:
Indie Midlands: What inspired the creation of Golem Dance Cult and how did you come up with the concept for the band's unique fusion of Industrial Dance Rock?
Charles Why: Project came about thanks to Trump in a way… The assault on the Capitol worked me out so much that I wrote a song about it and thought I'd ask Laur to add his vocals. We never worked in this configuration beforehand (he was the drummer while I was the bass player) and It came really naturally from this first song. Together with Laur we share so much common experiences and musical influences that, once we set on what we wanted the project to be like in terms of sound and image, the "launch" was easy-peasy. Our main starting point was: "hey, let's do something like an old Hammer movie directed by Dali and recoloured by Andy Warhol".
Indie Midlands: 'Legend of the Bleeding Heart' has been described as a captivating and raw musical journey. Can you tell us more about the themes and emotions explored in the album?
Charles Why: Albums are always snapshots of life of an artist, this is a 2 years snapshot… so it is a kind of witnessing our World spinning out of control and how we deal with this as individual, through humour, escapism, desire and the will to scare ourselves with twisted and demented stories.
Laur: In this album, you can find different kind of themes and emotions, from addictive relationships, nightlife, revolt to spiritual and personal emotions.
Indie Midlands: The album features a wide range of instruments and guest appearances. How did you approach the creative process of incorporating these elements into your music?
Charles Why: It seems the songs themselves often call for specific instrumentation. Even if we start with a 'rock' instrument, be it a guitar riff, a bass motif or a vocal line, sometimes the vibe of a song can call for a specific instrumentation. As I have access to lot of 'traditional' instruments such as gong, Tibetan Bowl, Shruti Box, Monalina… I tend to experiment with them to obtain the sound I have in mind. Regarding the guests, the songs were already composed with guests in mind. For example, Inga Liljestrom already sang on our previous EP, so it was a no brainer having her lend us again her amazing and captivating voice for two songs, 'Carpe Noctem' and a cover of Serge Gainsbourg 'La Chanson du format' (a non-album track which we offered to our 'fan' as a gift).
The song 'Feel like Tuesday-Deja Vu' was literally screaming for a cello so I contacted Jean-Phillipe Feiss, who is an amazing musician based in Brussels with whom I crossed paths in the past and who worked with Inga on one of her previous album. For the song 'Dead Breakers (Sky Burials)', I contacted Sam, who with Laur is one of my oldest friend. Like Laur he is originally a drummer but was always very well versed in throat singing. We wanted a kind of 'Tibetan vibe' to go with the subject matter (Tibetan death ritual where deceased are cut in pieces then fed to big vultures) and Sam provided those great guttural sounds.
As for the song 'Demi-Monde', I am lucky to have great neighbours who happened to be talented musicians. When I arrived in Australia from the UK, I just had my bass as all my musical equipment were sent in cargo boat – so to arrive months later. As I wanted to record some guitars, David my neighbour was kind enough to lend me two of his guitars. Since then we have this informal jam band with David on guitar and Aaron on the drums. Fast forward a few months and as we wanted a light acoustic at the beginning of the song 'Demi-Monde', we offered the gig to David who nailed it.
Indie Midlands: With tracks recorded in various locations around the world, how did these diverse environments influence the overall sound and atmosphere of 'Legend of the Bleeding Heart'?
Charles Why: To my mind, musical creation is always influenced by external factors such as the energy of the place where you create. Even if we did the basic tracking (drums/programming/bass and guitar) mainly in the UK and Australia, several songs were created or arranged in a specific location to feed off from the vibe. For example to perfect this 'icy' atmosphere on the song 'She/He's my Kryptonite' the majority of arrangements were done in Iceland. 'Demi-Monde' had an ethereal quality, a kind of garden of Eden vibe as the main guitar were done in a church converted into a musical studio in Victoria (and the gong recorded in Bali). For 'Dead Breakers', we recorded birds in the bush next to Byron Bay.
Laur: I can only agree and the fact that most of the music is recorded in Australia and the vocals in France also influences the sound and atmosphere of the album since our environment and seasons are not the same!
Indie Midlands: Critics have praised your music for its visceral impact. How do you balance creating an intense sonic experience while still maintaining a sense of accessibility for listeners?
Charles Why: The melody or hook are extremely important to us. Songs often started life with the chorus, be it guitar, voice or bass. Then this leads to the vibe the track will evolve into.
Laur: Although we like good melodies and hooks, it's not something we think about most of the time. The funny thing is that sometimes the more 'accessible songs' for the people listening to the album are not ones we thought about in the first place.
Indie Midlands: Can you share any memorable or challenging moments you experienced during the recording or production of 'Legend of the Bleeding Heart'?
Charles Why: We wanted the vocals in the song 'Carpe Noctem' to sound like what Tony Visconti did on Bowie's voice on the Berlin trilogy ('Low', 'Heroes', 'Lodger'). I even went as far as getting the same board parameters as the one used in Hansa studio in Berlin. I was happy with the musical 'bed' and with the vocals separately, but mixing them together was a challenge as either the vocals did not cut through enough or were too much at the forefront. This song was remixed several times and we finally obtained the desired results literally moments before mastering took place at Crystal Mastering in Melbourne (by Joe Carra).
Indie Midlands: As Golem Dance Cult's inaugural album, what do you hope listeners will take away from 'Legend of the Bleeding Heart' and how does it set the stage for the band's future endeavors?
Charles Why: We hope that more and more people will spare some of their precious time to check us out and discover our music. 'Grotesque Radio' EP was our 'carte de visite' and helped us put our cloven hoofs through the door of the collective (in)conscious. 'Legend of the Bleeding Heart' fostered our creative identity and its critical reception helped us reach more and more people to join our Cult. Next steps will be to tour, which means for us lining up enough gigs either in Australia or in Europe to make sense from a logistical point of view.
Laur: If they can take something away from it whatever it is then that's a good thing! This album gave the band a stonger identity that we'll keep on exploring…