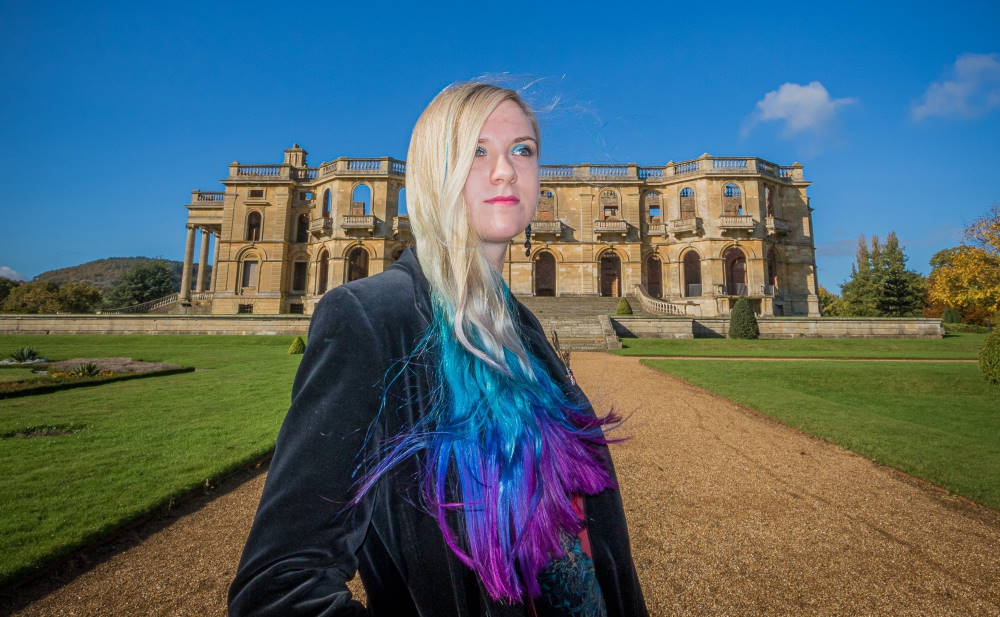 By Malicia Dabrowicz (Vanadian Avenue)
2020 might be the worst year on record for the music industry, but West Midland based Chloe Mogg is one of the lucky ones to call it her best. And it's not an exaggeration. In the last 12 months, Chloe released three critically acclaimed singles, set up an online platform supporting arts and musicians (The 7 Arts still Exist), organized two editions of a popular music festival and appeared on BBC News, BBC1, BBC6, BBC Introducing West Midlands, Hereford and Worcester and BBC Shropshire. Indie Midlands sat down with Chloe to discuss her relentless work highlighting the struggles of artists with disabilities, her plans for the future and the newest release entitled 'Attack'.
Hi Chloe. Thank you for talking to Indie Midlands despite having such a busy schedule. Last week you were on BBC Radio 1 speaking about The 7 Arts Still Exist – an online festival that you have founded with visual artist Amy Crouch. How does it feel to be on the biggest radio station in the world?
Chloe Mogg: I still haven't come off my cloud yet if I'm honest! Absolutely surreal and definitely a pinch me moment!
You also took part in a special feature for BBC Entertainment on how the pandemic is affecting artists with disabilities. Can you tell us more about it?
Chloe Mogg: Yeah sure! The BBC article featured artists with disabilities and also talked a bit about discrimination in the industry towards disabled musicians. I've had a few unfortunate situations where I've been called a 'disappointment' for my health conditions. I was diagnosed with chronic fatigue syndrome back in 2012, followed shortly by fibromyalgia. Having these conditions led me to get anxiety, and I've lived with them ever since.
On November 27th you released your new single 'Attack'. It's a Jeff Buckley – meets – Cocteau Twins dark ballad with lyrics that deal with fears and anxieties. Quite a fitting soundtrack to the pandemic and ongoing political upheavals of 2020. Would you agree if we called it your most personal song to date?
Chloe Mogg: 'Attack' was written during a dark time in my life, where I felt I had to apologise for my own health. Writing the song and now looking back on it makes me feel so proud of how far I've come with my health and how far I have still to go. It's definitely my most personal track to date and definitely proudest too.
Do you think it is important for musicians to "let the audience in" and allow them to see the intimate side of the artist? It is something that both Thom Yorke and Nick Cave have been doing recently in order to reach out to fans. Where do you place yourself on the issue?
Chloe Mogg: I think it can depend on the individual. As a 'fan', I love listening to personal music and really sympathise with the artist on their story. It makes me feel more connected to the music. As a 'musician', going through personal life stories, it helps inspiration for tracks.
'Attack' has been recorded with a few accomplished West Midlands musicians as your backing band. Would you like to introduce them?
Chloe Mogg: Yeah, of course! So I wrote the track, arranged, played guitar, vocals and helped out with producing. Jack Bowles was on drums and Mirron Webb (my partner as well), played guitar, bass, piano, did some backing vocals and produced the track. Mirron's in two West Midlands based bands that you should definitely check out: RAIN and Hey Jester.
We want to ask about The 7 Arts Still Exist Festival. We know you have been doing a new series of performances called Happy Hour. Can you give us more information about it and if anyone wants to get involved, how can they reach you?
Chloe Mogg: You can get involved by sending us a 'happy' track. A track that shines positivity during these uneasy times, it can be either an original or a cover. If you can send a video of you playing the track to us here (via a Google Drive or WeTransfer), that would be amazing. Every submission should start with an introduction of yourself and the song. Please also send a quote on why the track radiates positivity/happiness!
We are nearing the end of the year. What`s in store for Chloe Mogg in 2021? We heard rumours about an album?
Chloe Mogg: I've been recording my debut album for a while now. It's finally taking shape after health problems on the way and the pandemic. It's slowly but surely getting there and the three tracks I've released this year will be going on the release. I'm so excited for 2021 and hope it's a better year for us all.
Check out latest single 'Attack' below.