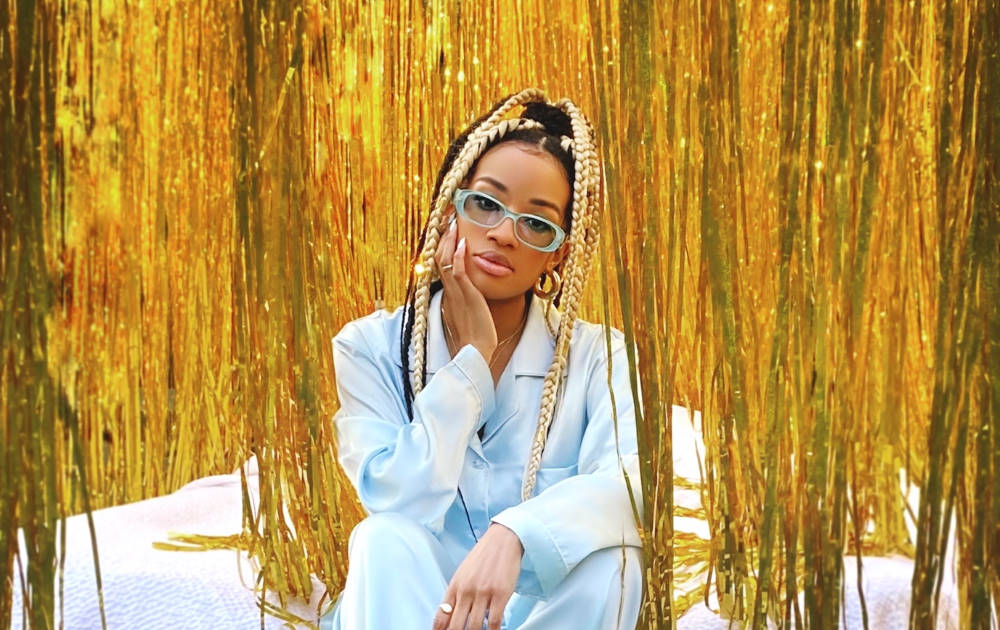 One of the West Midlands' coolest upcoming talents, Cariss Auburn is making a name for herself by merging 90s esque R&B, soulful vocals and funk beats. After gaining support from PRS, BBC introducing and Glastonbury emerging talent, Cariss is continuing to release innovative and exciting tracks, most recently 'Too Tired To Sleep'. With stripped back beats, and laidback melodies, this track puts Cariss in a similar crowd to neo-soul contemporaries like Joy Crookes, JGrrey and famous midlands bab Jorja Smith. I got to have a great chat with her about what has happened in her career so far, and what is coming up!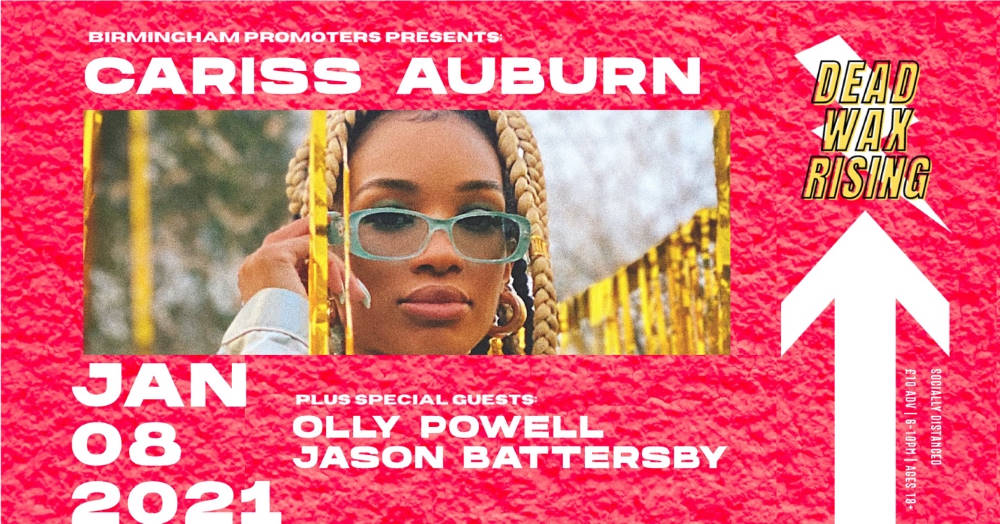 So you've got a gig coming up in Birmingham soon, (fingers crossed), when was it you last played live?
So, I played a mini show at the Dark Horse in Moseley, around October, I think. But the last time that it felt like a proper show, at least where more people are actually allowed, gosh, when would that have been. It can't have been Discover Birmingham festival in January, but then I guess we did go into lockdown in March, so maybe. It's crazy, but that was one of the last ones which was cool. I was on the bill with Rosie Tee, Delta Autumn.
Ah cool! They're a cool band aren't they?
Yeah, like jazz influenced, really cool. Kinda remind me of like Tom Misch. Me personally anyway, they could hate that comparison!
Where was the Discover Birmingham show? I remember seeing posters for it.
That was Sunflower Lounge, it was quite funny, only a couple months before I'd done my headline show there with Punch Records. I did that, then it felt like a couple weeks later I was back there again.
What's your favourite venue in Birmingham?
This is a hard one! I've seen so many of my favourite artists there. I always get these confused, but the HMV/O2 institute, on the way to the custard factory! Whatever one it is, I've seen my favourite acts there like Lianne La Havas, The Maccabees, BANKS as well, Hot Chip.

I also really love this collective called Shanty Town, they're a really cool set of musicians. A load of super talented musicians come down and have a jam really. They always do their nights at the Spotted Dog in Digbeth, it's kinda similar to Neighbourhood at The Night Owl. Those sorts of venues are really cool to see people who literally just love to play music. It's nice, you walk in and you're just like hey! You're all here. I'm just waiting for the day that that sort of stuff can start up again.
Yeah me too! Especially seeing those people that you wouldn't message but you always see them for a catch up at the same place.
I saw that you filmed the 'Too Tired To Sleep' video at home, how was that?
That was insane tbf! I had all of these grand plans, like yeah it's going to be super cinematic, we're gonna have a cast, then we're gonna do all this. Then suddenly, krr! I was like okay, it's fine, we're just gonna have a dancer and do some like choreography, then again nope! Can't even! Then I was like, okay! So I'm just gonna see what happens in the garden. I got a load of tinsel and put this foil curtain up. I was inspired by this piece of art I saw, it's an installation, by Jesús Rafael Soto, it's this installation where there are loads of blue plastic strings.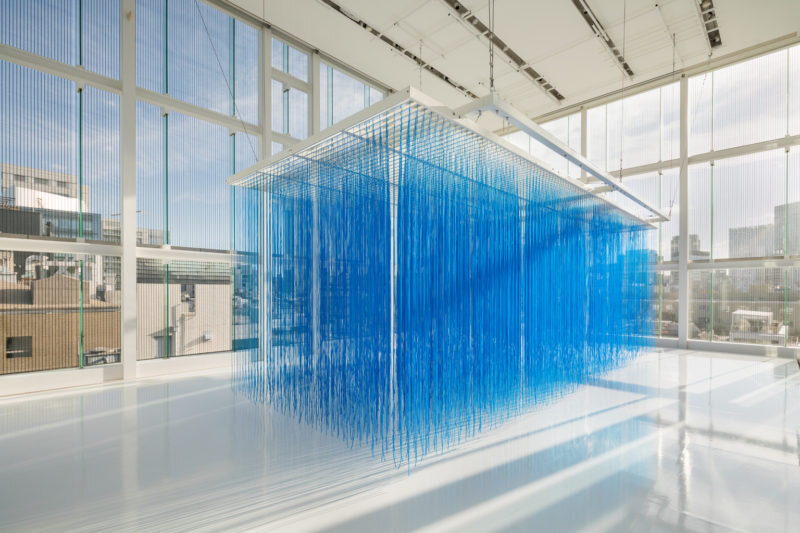 I just wanted to make something that looked as interesting as possible, considering its in the garden. It wasn't too bad!
I thought it looked really good, I really enjoyed watching it.
Well thank you, I'll pass on the compliments to my mum who was dragged into filming it. It's almost like a nice little time capsule, you can kind of see what was happening at that time.
Especially within this crazy year! Has the pandemic changed any of your other plans?
Yeah! It's pushed back things. Right now I'm working on a few things, I'm building towards an EP, hopefully early next year. It's one of those where it just keeps getting pushed back further.

It's crazy, as any artist, performing as well. Performing is really the main income, it helps pay forward for so much stuff. You just can't do things now, just like how am I going to pay for things? Where is the money going to come from? Luckily, I got the PRS Foundation funding, which is great. Thankfully, with this lockdown, there have been things that I have been able to continue working towards which I'm really grateful for, it's not a case where it all just ground to a halt. I've still been writing, doing bits and bobs, and doing things online where I can, then this EP. The PRS fund was to create a video for my next single, so that's all done, keep an eye out! There's been a lot of exciting things happening behind the scenes thankfully.
Ready to get straight back on it when things open a bit more!
It'll be nice to have that interaction as well, especially with my band and stuff. I think we were able to do 1 rehearsal for the Dark Horse show, then it's probably going to be it until next year.
You've been releasing music for a while now, how have things changed since you began?
It's crazy! I feel like I've been doing music for a few years, but haven't really released a lot of music. Which is probably quite odd, seems like people are just releasing music quite constantly, but it's just not how things have happened for me. When I first released my first EP in summer, that stuff got me onto BBC Introducing West Midlands. I was just kinda like this is pretty cool, what are the chances! Then after that, I was just sort of like, hang on, this is actually something I could do for a job.

I wasn't one of those people that at a young age, fresh out of the womb, decided yes music is for me. I've always been musical, like orchestras and things, but I just never thought as a career. I used to be so so shy, cripplingly shy, I never would have chosen this path, but it has come naturally out of what I do now. Now, releasing 'Too Tired To Sleep' and what I've got coming up. Those bits of validation like PRS funding, and things like that, I just feel like in a really good place. It's nuts, you get flung into it! Sometimes you'll sit down with certain professionals and they're just like okay what's your brand identity, who's your audience, what's this what's that, what kind of songs! I just don't know.
I just like making good tunes!
Exactly! It's nice, I do feel comfortable, not in my comfort zone but excited for 2021!
What's been the highlight of your musical career so far?
There's probably a couple, definitely getting the PRS funding, its just so competitive so I am very grateful. Also, quite early on when I started performing with a band, I got chance to open for Alexander O'Neal. Because my like biggest influence in music is 80s funk and soul, it felt like an out of body experience. Things like 'Saturday Love', like how is it that I'm actually opening for one of my all-time faves. I was also longlisted in Glastonbury's emerging talent contest that they do, it was a couple years ago now. It's like I was saying before, these things happen and at the time you're like oh this is cool, and then when you look back you realise that it was actually a big thing! So I'm trying to big myself up a bit more these days!
You've got to!
Just be like, you know what, that's actually really good! Just got to try and stay with the positivity now. I'm speaking it into existence, so I'm excited to share the new music I'm working on as well, I'm trying not to give too many spoilers!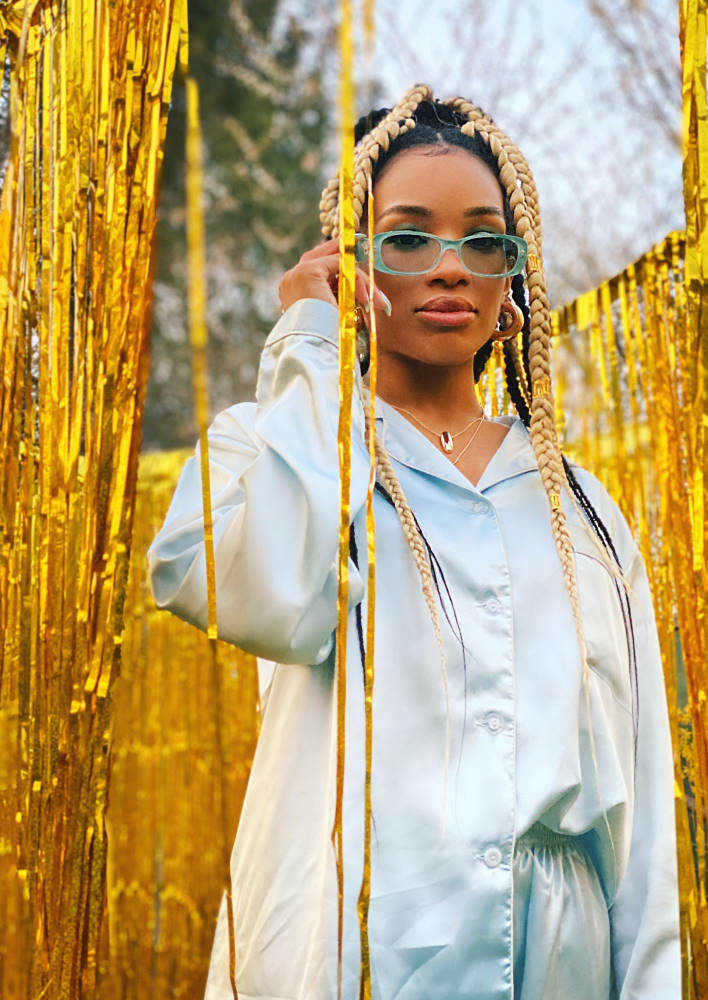 Do you have any dreams of who you'd love to play with or where?
I would love to in general be able to make a living, and be comfortable doing what I'm doing, just creating music. I've got no desires, or it's not a target of mine to be famous or become like a Rihanna, business mogul. If I could be one of those artists who are like randomly really popular and successful, in their country, and they just have quite a peaceful life, that's absolutely fine for me. Everyone has dreams, I would love to be on big festival stages like Glastonbury, and arenas and stuff. You have to have those types of goals to push yourself with, but as long as I can connect with people in some way, so I can keep creating. Obviously, I have my idols, like Lianne La Havas, Solange, Denai Moore, I find so cool, Bree Runway, like loads of them. If I was ever in the position to have some sort of collaboration, I'll sit back and be happy.
Well thank you, it's been so lovely chatting to you. You said about an EP is there anything else for people to look forward to?
That's mainly it, there's the single, then video coming very soon, keep an eye out! Then fingers crossed the show on the 8th of January.
Amazing, thank you!
Cariss plays Dead Wax on Friday 8th Jan hosted by Birmingham Promoters. Get your tickets here!
Merch can be found here!