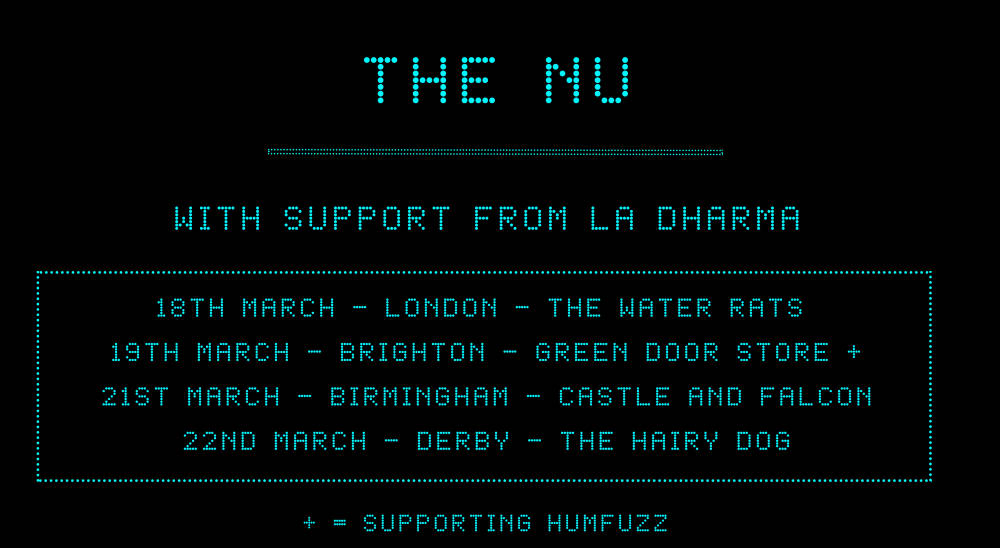 Local act The Nu are heading out on their first UK tour and are taking La Dharma with them. They play four dates including a hometown show at The Castle & Falcon on Saturday March 21st. All info below.
The Nu
Nominated for 'Best Song' and the 'Rising Star' awards at The Birmingham Music Awards 2019, The Nu embarks on their first UK tour.
What do you get when The Killers decide to write an album in Ibiza? Welcome to The Nu, formed in 2017 by acclaimed singer-songwriter Darius Zaltash. The futuristic music project, born in the cultural heartland of Brighton now blossoming in the industrial backstreets of Birmingham who has ambitions to reach Nu heights, creating pumping soundscapes for the 21st century.
The Nu combines the electric atmosphere of the dance world and the raw energy of rock'n'roll to pioneer a fresh approach to music. Drawing inspiration from acts such as INXS, Crystal Castles and Jane's Addiction, we dive into countless spectrums of euphoria that has every intention of sparking that precious goosebump feeling.
La Dharma
Birmingham based indie stompers with an 80s pop edge influenced by The 1975 and Blossoms.' The indie pop foursome La Dharma formed in the West Midlands in early 2017 with founding member Chris Leedham's passion for writing slick meaningful stories embedded within 80s pop sounds.
La Dharma's signature sound was born after further experimentation with guitarist and old friend Daniel 'Jonah' Jones's indie background. However, the pair were missing the driving force behind the music and were joined by bassist Christian Booth and drummer James Morris to finish the line up with a tight and funky rhythm section.
After a successful year of gigging, the band are looking to release some new tunes towards the end of 2020. So sit back, relax and get ready for big things.
March 18th – The Water Rats – London – Info
March 19th – The Green Door Store – Brighton – Info
March 21st – The Castle & Falcon – Birmingham – Info
March 22nd – The Hairy Dog – Derby – Info