Monday April 27th – 7:30pm to 11pm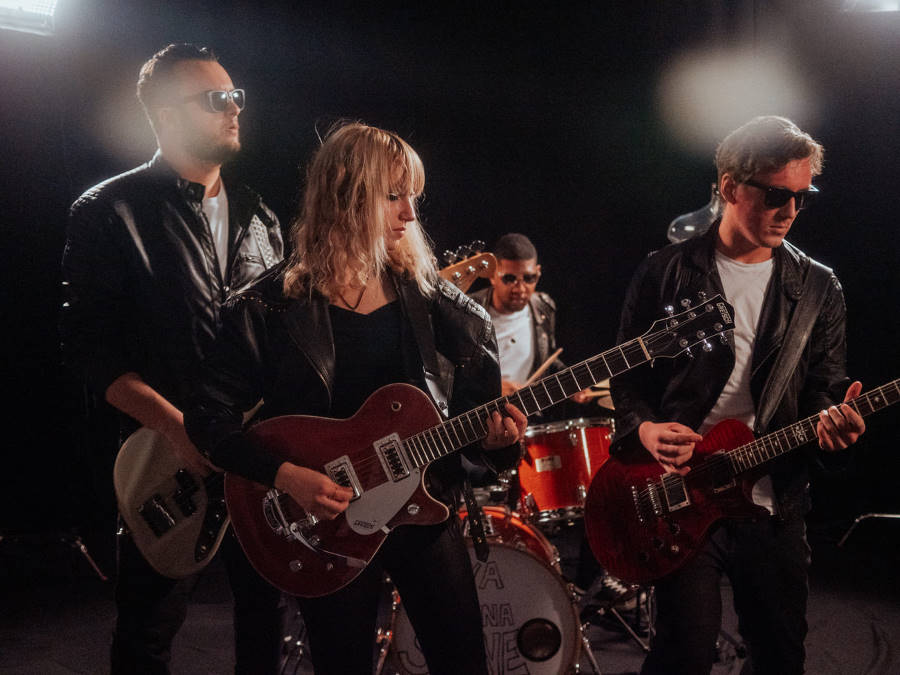 Indie Midlands Presents Purple Thread + Bad Bug + Special Guests
Purple Thread
Purple Thread are a 4 piece glitter-drenched rock n' roll band from Leeds known for their eclectic brand of blues infused guitar pop.
Leading their audiences through a genre-defying sea of gritty, groovy noise, the band have rattled their way through blistering live performances up and down the country. Prone to the odd mid-song poetry break, mean riffs, and inescapable hooks, Purple Thread are rapidly forging a name for themselves as one of the most energetic and captivating live bands on the circuit.
The band released Glitter in March 2018 – a snappy, grunge-tinged anthem, the song quickly became a favourite among the crowds soon after release. Next single Life's a Drag showed off the funkier side of the band, and was highly praised for its fusion of rock, funk and pop. Latest single 'Something Good' was released on 4th February 2019 in conjunction with Independent Venue Week at the 360Club event co hosted by Gus from alt-J.
With multiple radio plays, an on air interview from BBC Introducing West Yorkshire, a DJ set from Alan Raw at the 'Life's A Drag' single launch, support slots for bands L.A. Witch, Skating Polly and Hands Off Gretel, festival slots in Camden, Derby and Leeds and latest single launch co-hosted by Gus from alt-J, the band is going from strength to strength and showing no signs of slowing down.
Audiences are advised not to forget their dancing shoes.
Bad Bug
Bad Bug are inspired by classic rock and pop and initially formed at 5am by the Hell Stage at Glasto.

Gigslutz
"Combining jangly charm with a delightfully dark fuzz… Spot on, devilishly good."
Nice People Magazine
"A subtle darkness underpins their tracks, juxtaposed by their shimmering personalities and sparkling stage presence. Their music empowers you to stomp into any situation with the confidence and flair of a bad bad bug."
Future Fires
"Guitars, bags of attitude and dancey undercurrents galore" – Medium Magazine
Future Fires are a four-piece rock band from Birmingham, UK. Inspired by Birmingham indie giants such as Editors and the rough-and-ready rock of Royal Blood and The White Stripes, Future Fires combine signature thumping guitar riffs with singalong choruses.
Forming in 2017 the band shot to early success with a high-profile slot on the main stage at Coventry's Godiva Festival alongside The Amazons and Carl Barat and the Brummie boys have been going from strength to strength ever since, getting involved with the West Midlands' growing independent music scene playing alongside Ivory Wave, The Clause and Candid.
"Bound to cause scenes at a summer festival" – Counteract
Their debut release, 'Far' garnered local media attention and widespread radio play, including airing on BBC Introducing, and propelled the band on a series of headline and support slots across the country. Performances at venues such as The Sunflower Lounge and Zigfrid Von Underbelly soon led to support slots for The Pale White, Bang Bang Romeo and Oddity Road as part of their tours.
"The kind of band you'd really enjoy live" – BBC Introducing
Comprised of front-man Adam Norman, guitarist Jak Garrity, bassist Matt Levesley and drummer Alex Cowie, Future Fires are currently gigging across the country in support of their latest releases.
The VHT's
"Old school but new" A young pub rock inspired 2 piece (2020) from Worcestershire, writing and delivering resolute steadfast songs, honing a distinctive live sound.