Friday January 14th – 7:30pm to 11:00pm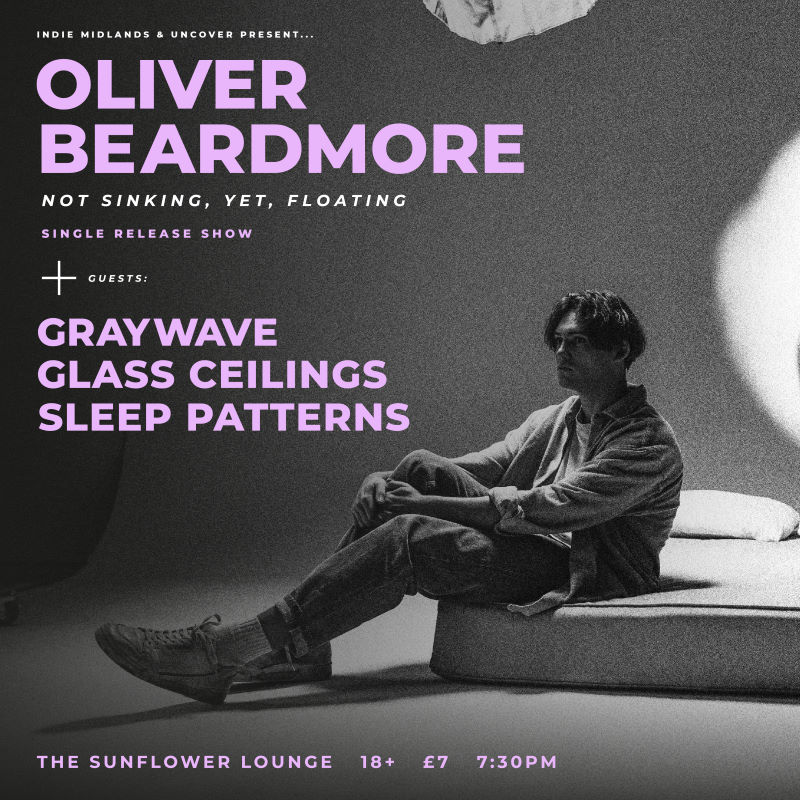 Oliver Beardmore releases his new single 'Not Sinking, Yet Floating' on January 14th and Indie Midlands has teamed up with Uncover to bring you a release show for the single. Also joining us on the night are Graywave, Glass Ceilings & Sleep Patterns.
Oliver Beardmore
Oliver Beardmore made his lyrical ambition known at a young age with a trio of singles in 2017 and 2018 that drew comparisons to the songwriting of indie staples Alex Turner and Noel Gallagher.
After a hiatus from the studio, Oliver returned in 2020 with a step into a new sonic direction with 'Fiesta', the lead single from his debut EP. With this move, Oliver placed himself at the end of a more avant-garde lineage, inspired by shoegaze and dream pop royalty Cocteau Twins, my bloody valentine, and Slowdive whilst retaining a melodic sensibility more akin to Lana Del Rey or Mazzy Star.
After 'Fiesta', Oliver released the second single from the new EP 'With the Heavens on Your Side'. This was met with even greater critical and commercial acclaim than 'Fiesta' and has been a staple of his prolific live performances in Birmingham and London ever since.
The final single, released on January 14th will be the titular 'Not Sinking, Yet Floating', a chiming anthem about the mental toing and froing that ensues after drawing a line in the sand with someone, trying to work out whether the haze has lifted, or the fog has descended. Oliver Beardmore has received critical praise from the likes of Dave Rowntree of Blur, as well as extensive Spotify and radio attention. This includes national and international airplay from the likes of BBC Introducing, Amazing Radio, Hertz 87.9 and FREQUENCE 7.
Graywave
Graywave is the solo musical venture of multi-instrumentalist Jess Webberley. The first single of the project, 'Afternoon Escapism'was released April 2019 and has since then achieved over 2000 streams on Spotify.
Taking influence from the likes of Men I Trust, Slowdive, Crumb, and Widowspeak, Graywave aims to create music to make you feel as though you are elsewhere. The combination of dreamy chords, shoegaze inspired guitar leads and powerful vocals creates a distinctive, recognisable sound.
Graywave has been featured on the Brum Radio A-List multiple times and has had radio play from BBC Introducing. The most recent single 'Before' has been their most successful song to date, landing a feature on an editorial Spotify playlist as well as receiving glowing reviews and radio play globally. The artist has recently signed to Australian label 'False Peak Records' and released her debut EP 'Planetary Shift' on vinyl through them.
Glass Ceilings
Branded a "light-hearted indie sweetness" that "carry so much promise", this 4 piece are rising fast with "infectious melodies and tight vocals".
Sleep Patterns
Expect dreamy psych rock with a twist.