Friday May 15th – 7pm to 11pm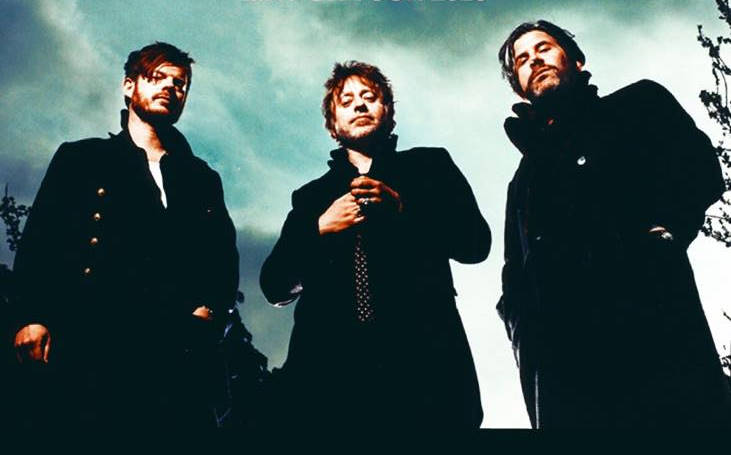 Featuring the Mercury Prize-nominated solo artist and producer Ed Harcourt, Richard Jones of The Feeling, and Gorillaz / Senseless Things drummer Cass Browne, newcomers Loup GarouX share their official debut single 'I Know The Truth About You', together with its official video. The single has today been premiered by Matt Everitt at 6 Music.
'I Know The Truth About You' is a strutting, swaggering cocktail of garage-rock sleaze and powerful, stoner rock grooves. There's some Queens of the Stone Age flavour in there with some Arctic Monkeys panache and the epic romanticism of Mercury Rev, but Loup GarouX possess an impossible-to-pigeonhole mesh of influences which makes them very much their own ominous beast.
"I love that there's a loucheness to the sound and that it feels quite nonchalant," says Harcourt. "It's got to have that swagger. Even in its darkness, it's still got to make you move."
Loup GarouX have already made an impression with two introductory tracks. The foreboding "post-existentialist blues" of 'Sleep Forever' saw them hailed by NME as a new supergroup after it featured as the theme track to the ITV2 zombie apocalypse comedy 'Zomboat'. They then released 'Painter of Trophies' on 7" vinyl, a nightmarish rush of visceral Birthday Party-style goth punk and the frenetic intensity of …And You Will Know Us By The Trail of Dead. The track was earned airplay courtesy of Radio 1's Rock Show with Daniel P Carter.
Dig deeper into their material and you'll hear echoes of everything from The Stooges to Sonic Youth to Scott Walker and Springsteen, set to lyrics which explore ideas ranging from demonic Victorian-era spirits to obsessive fever dreams.
Loup GarouX formed entirely by chance. All three members have been friends for years, collaborating on all manner of projects and sometimes touring together too. Harcourt even remembers going to see Browne play in the Senseless Things when he was a teenager. After Harcourt returned from a North American tour with The Afghan Whigs and Built To Spill, Jones paid him a visit which resulted in them jamming in Harcourt's studio the Wolf Cabin.
The finer details of how the band came to be are already lost to memory, but that kind of unspoken black magic is entirely fitting for their vibe. What's unmistakably true, however, is that the trio joined forces at a time when they were all eager to do something different from their long-term projects. Exploring fresh ideas, sounds and influences was the precise catharsis that they needed, and that energy radiates throughout everything that Loup GarouX do.
"The idea of being in a band or a democracy was something that hadn't really appealed to me," admits Harcourt. "I was much happier doing my own thing. But there's something special about being in a gang of good friends and co-conspirators making great music, especially as all of our songs are written entirely collaboratively. I feel like we're going into war with this band. I'm so excited and proud of my fellow comrades."
Working in frenzied bursts of activity – rarely more often than a couple of days a month – Loup GarouX quickly built up a catalogue of more than twenty songs for an album that they're currently finishing and will release next year. The songs are then mixed by Cenzo Townshend (U2, Florence + The Machine, The Maccabees) to "pump some steroids into them", with the band using his live room for any additional fine-tuning.
As with their creation, the band's name also emerged fortuitously. Harcourt's 2016 album 'Furnaces' featured the song 'Loup Garou', which inspired a friend to buy him a French-language film poster of Oliver Reed's 1961 Hammer horror 'The Curse of the Werewolf'. And so 'Loup Garou' stared down at the trio as they cathartically ripped through songs full of violent thrills and intimidating imagery. Naturally, it stuck. Albeit with an X tagged on the end for good measure.
"There's definitely some kind of fantastical, escapist element to our music," concludes Harcourt. "I think that's an absolutely vital part of being in a rock 'n' roll band. You don't want to point things out the whole time like some kind of news anchor. The songs have a modicum of hope too, and I think that's very important to have at this moment in time."