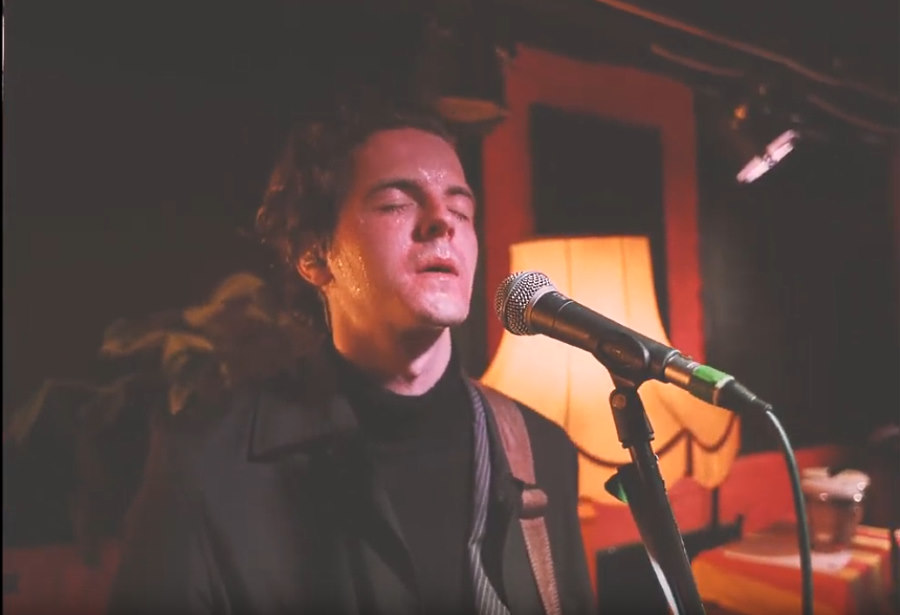 Unable to tour and promote their second album ('Fantasies of a Stay At Home Psychopath') in old fashioned ways, Manchester trio The Blinders decided to hold a special concert for their fans and stream it online. Dubbed 'Live From The Bottom Floor' (most likely the ground floor at the Eve Studios where 'Fantasies…' was recorded with producer Rob Ellis) and accompanied by a quasi movie poster – the gig was made available to all who purchased the album via the platform GuestHouse.

For the occasion the band brought in few friends, growing from a trio to a six piece. Besides Thomas Haywood (guitar, vocals) and Charlie McGough (bass), the line up included Eoghan Clifford (guitar), Paris Taylor (backing vocals and percussion), Thomas Castrey on drums and Callum Chesterman on keyboard.‬

Missing in action was the bands original drummer Matty Neale, who is taking a short break from playing.
In a way the concert was like a Manchester super group coming together as Eoghan Clifford is from Cabbage, Callum Chesterman was involved in Snooze and Thomas Castrey was until recently drumming in Saytr Play, leaving his post to join The Blinders entourage last year after their long time technician Max Grindle moved on to form Document. The concert was filmed by Sam Crowston – another long time collaborator of the band who is responsible for most of their videos, photos and record sleeves, while the sound was overseen by James Higham, the bands touring engineer. A family affair.
The Blinders are no strangers to super groups – having formed one in 2018 with Bobby Bentham of Strange Bones and Jess Allanic of Calva Louise (called SECS). They are also familiar with playing sets in unusual locations. In August last year the trio delivered a stunning semi acoustic gig in a museum in Blackburn and followed with two matinee live sets at opening of their exhibition/ live album launch at 33 Oldham Street in Manchester a month later.
Previous experience and close ties between the musicians paid off. Everyone felt at ease, knew every song inside out, there were little jokes between them and a lot of fun visible to those who watched the gig on their screens. Despite dark and dystopian themes in the music, the band was in good spirits and in top form. Extending the line up to six members and having additional guitar allowed The Blinders to create a more spacious, nearly psychedelic atmosphere, so much different from their usual sound.
The Blinders have something to celebrate. Their new album is aiming for the top 20 (judging from midweek charts) so do grab yourself a copy of 'Fantasies…'. I've said it before and I`ll say it again – this is the most important band to come out of UK in the last three decades.
Set list:
Something Wicked This Way Comes
40 Days & 40 Nights
Lunatic (With A Loaded Gun)
Circle Song
I Want Gold
Interlude
Mule Track
Rage
From Nothing To Abundance
Black Glass
ICB Blues
L'Etat C'Est Moi
Brutus/Et Tu/Berlin Wall