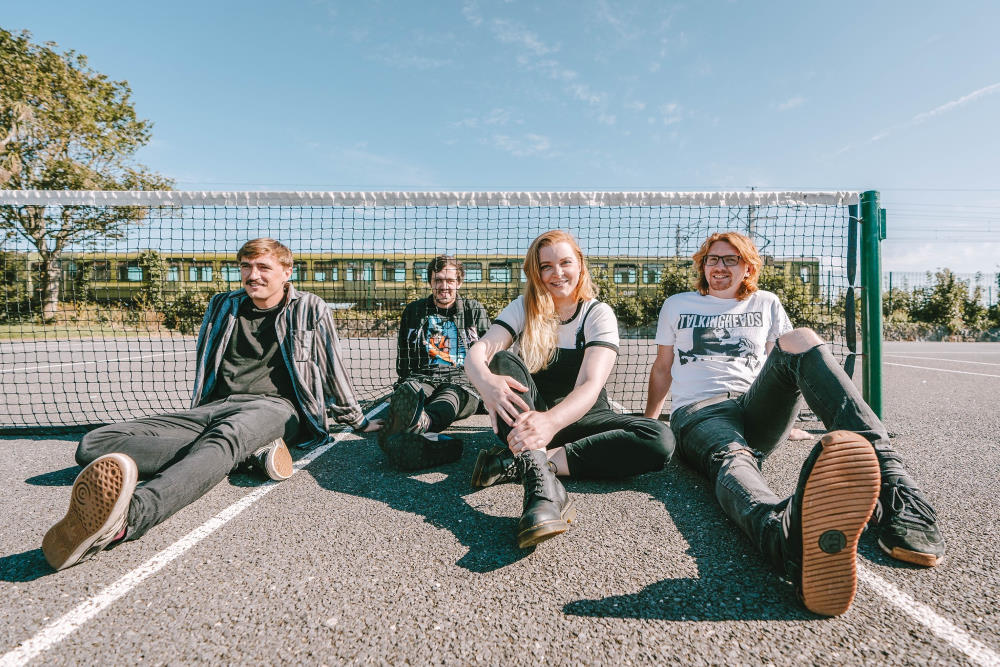 Sprints
The Sunflower Lounge
Review by Kirsty Harrod
If you beat through the crowd of Squid Game costumes this Halloween and ended up at The Sunflower Lounge, you were in for a fantastic night with Irish garage-noise band Sprints.
Support act MeMe Detroit kicked off the evening with her signature red stripe across her eyes (not the beer – she was sensibly sipping water throughout the sweaty gig). With the help of the bassist's raucous riffs and the drummer's tight beats, all co-ordinated in black and red, MeMe Detroit brought a grungey sound with headbangable tunes. Despite her best efforts, however, the crowd wasn't going for it and declined the offer to get rowdy. I can't help but feel MeMe Detroit would have fared better on another night, but alas the energy just wasn't there.
Sprints, on the other hand, got the whole basement jumping from the get-go. Lead singer Karla's gritty vocals showed real strength, soaring above the fast guitars – not even mic problems could get in the way of her showing the crowd how to party. Her stage presence was mesmerising, and even more impressive given that the Dublin band only formed in late 2019. With fast guitars and dancey tunes an appreciative mosh pit quickly formed.
Sprints have burst onto the scene with breath-taking speed, reminiscent of The Vaccines' rise to fame, with similarly rocky sub-3-minute songs. It's hard to pick a favourite track, but new single 'How Does the Story Go?' rounded off the gig with aplomb. A special shout out too to 'Ashley' which was declared a 'fan favourite'. These tunes have been on repeat on my Spotify since stumbling out of the gig, and Sprints are definitely one to watch.