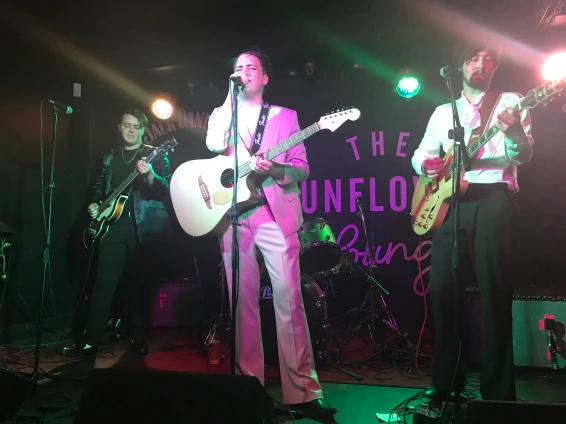 Soul Love
The Sunflower Lounge
Review by Ben Wilson
The return of live music is back, and to kick it off we have a night of blissful rock n roll with a stellar array of artists. Punk four-piece Baudelaire, a solo set from Candid's very own frontman Rob and the sold out headliners Soul Love, a pair of brothers who at their heart bleed rock n roll. The Sunflower Lounge hosted the whole night and it was perfect for all the fans who wanted to get back to what we've missed.
I got down just in time to see Baudelaire. A gloomy guitar riff echoed around the underground stage and up the staircase, a sheer wall of noise hitting you in the heart. The drummer holding a steady foot stomping rhythm accompanied the lead singers angry yet controlled vocals leading to a cacophony of dark post punk brilliance. People throwing each other round in the pit is just how they like it. Catching up with the drummer Jacob after the performance he had this to say – "omg, insane, small room, colossal atmosphere". 
It was then a complete juxtaposition to an acoustic set from Candid's frontman Rob. From smashing up the set with a punk number to a guy with just his guitar, a well thought out setlist with hit singles from his bands catalogue like 'Concrete Jungle' to a heartfelt stellar cover of Beatles classic 'Please Please Me' that he put his own little spin on. It's rare you find someone who really knows how to work an acoustic guitar but this set proved that he can, making the audience rock their heads from side to side with just the one guitar. The clean sound with perfect vocals was quite literally music to everyone's ears. Finishing off with my personal favourite 'Through All The Fighting', it was the perfect transition to get everyone into the headline spirit.
So we'd all bought our tickets to see the Bourke brothers headline slot and oh boy did they deliver! The chemistry between the siblings was unmatched, with Brad the lead singer belting out tune after tune, including a rendition of happy birthday to his dad in the crowd. The three-piece from Birmingham don't have a drummer, it's two lead guitars and a Höfner 500/1 violin bass just like their hero Paul McCartney. It's clear to see the inspiration they take from the greats like Elvis and the Beatles. They're a band who know exactly how to get a crowd moving, constantly cheering on the audience while smashing their single 'Sugar', a proper foot stomper with one stunning guitar solo that pierced into your brain.
Frontman Brad was telling me what it feels like to be back at The Sunflower Lounge – "We've been to thousands of gigs at the Sunny, it's an absolute dream to be on the other-side as Soul Love". The trio have pure passion for what they do and it shows in the performance that they gave us. To cap the night off they finished with one of the grooviest covers of 'Stayin Alive' ever heard. Not one person was standing still, everyone pulling out their best moves all over the dance floor. 
The Birmingham music scene is once again back on its feet with a fighting spirit.