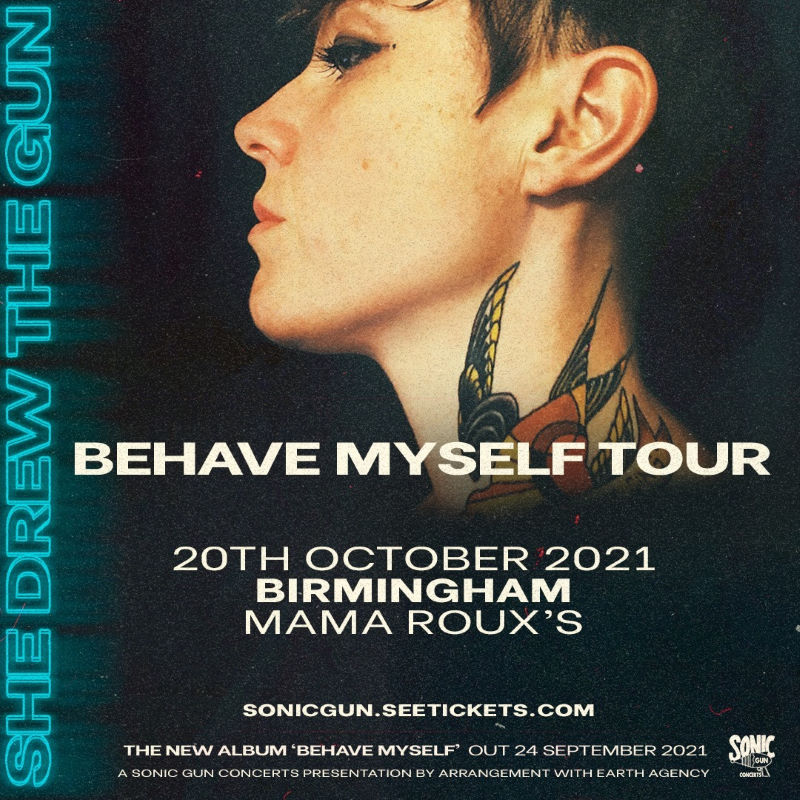 She Drew The Gun
Mama Roux's
Review by Jamie Connolly
She Drew the Gun graced Digbeth's Mama Roux's this Wednesday evening in support of new album, and a personal highlight of 2021, 'Behave Myself'. With the album attracting attention from BBC Radio 6 Music as well as great reviews across the board, I was intrigued to see how some of these songs would translate live.
First though, was support act Annabel Allum. I was having some food across the road pre-gig when someone came up to me and complimented me on my Another Sky band t-shirt. That was a nice encounter I thought, I wonder if she's going to the same gig as me. It turns out that not only was she at the gig but performing as well! A confident stage presence, Annabel encouraged the crowd to move closer to the stage and she and her band delivered a set of gritty alternative rock, the perfect precursor to what was to follow.
Kicking off with the opening track off the new album 'Origin Song', the crowd got their first taste of the darker, more psychedelic direction the band explored on said album. Previous material was not neglected though with the catchy 'Something for the Pain' proving to be a set highlight. The couple next to me that I had befriended were excited to hear early single 'Poem' towards the end, a bit more low key than most of the set, but still enthralling nonetheless.
The band started off as a project for singer/guitarist Louisa Roach and her lyrics are often deeply personal and politically charged. It's during songs where Louisa turns to a more spoken word type of delivery where these messages really hit home. New single and 6 Music playlisted 'Behave Myself' is a prime example of this, where the instrumentation is more stripped back during the verses, leaving the audience to focus more on what is actually being said. Think of Courtney Barnett but from the North West.
Key in keeping the crowd energetic and up for it was the keyboardist, showing some great dance moves when not playing parts and even joining some in the front row for some headbanging. This energy was brought by the whole band for final song 'Panopticon', creating a party atmosphere in the room which I observed with a huge smile on my face from the upper balcony. The song itself reminded me of Working Men's Club and PVA, two bands coming up through the thriving UK dance punk scene, as well as some classic LCD Soundsystem for good measure. There was not a body in the venue that was still, and this proved to be the perfect way to cap off a great night of live music.