Rookes
The Sunflower Lounge
Review by SdM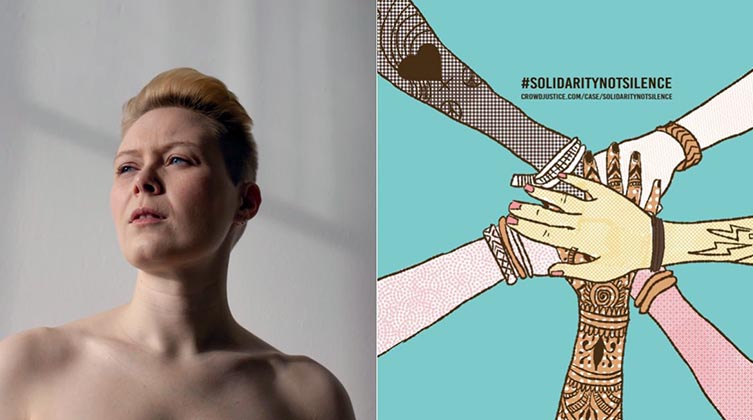 On a cold but dry Sunday, and the first day of December, The Sunflower Lounge hosted a live show in aid of #SOLIDARITYNOTSILENCE. The event was hosted and headlined by Rookes to raise awareness, and much needed funds, for a group of women fighting a defamation case. The law, in this case, is being used to silence accusations of abusive behaviour.
As stated on the flyer –
Money should not be a barrier to accessing justice and these women refuse to allow their case to set a precedent for silencing marginalised voices in the music community and beyond.
Indie Midlands fully supports the individuals concerned and their fight for justice.
Headliner and host MC for the evening Rookes returned to her home city visibly bursting with energy and confidence. For the nervous artist who took to the stage at the Rainbow in Digbeth a few years ago – the first ever gig as Rookes – things have changed: now a London resident enjoying a full-time music career and playing gigs all over Europe, Rookes took to the stage like it was her second home.
Rookes places the electronic music gadgets centre stage as if they were part of a double act. The blinking lights on the sampler and other gizmos face the audience and entertain in their own little way. The dark and atmospheric 'New Lovers' from the latest EP 'Liminal' opens the show blending trick dance beats with analog synth sounds and a bluesy cool vocal.
'Pessimism Is For Lightweights', a poem by Salena Godden is a galvanising moment. Beautifully read, the positive message contained within gave an almost tangible lift to all those in attendance. But mostly it was a message to those women concerned – don't give up.
From the first EP the title track 'The Game And The River' is announced to much audience approval. 'Sidelines', also from the first EP, is enhanced with an additional guitar melody conjuring a Velvet Underground darkness to the verses. A cover of FKA Twiggs' 'Cellophane' performed in the style of Swedish popster Robyn centre-pieces Rookes' impeccable vocal. "New, new song", 'Bad Code', thumps along in a wonderfully dark mash of electronica, fat synth sounds and discordant viola solo.
Most of the night's material is naturally from the latest EP 'Liminal': A stand out version of 'Salvage' – stripped of its heavy production – is played how it was originally written. 'Constellations' is the dreamiest and most ethereal of the collection and one of the more "casually romantic" songs. 'Liminal' with its Erasure-like statcato dance synth interlude finishes the night on a high.
A suitably positive note to end on in supporting a great cause.