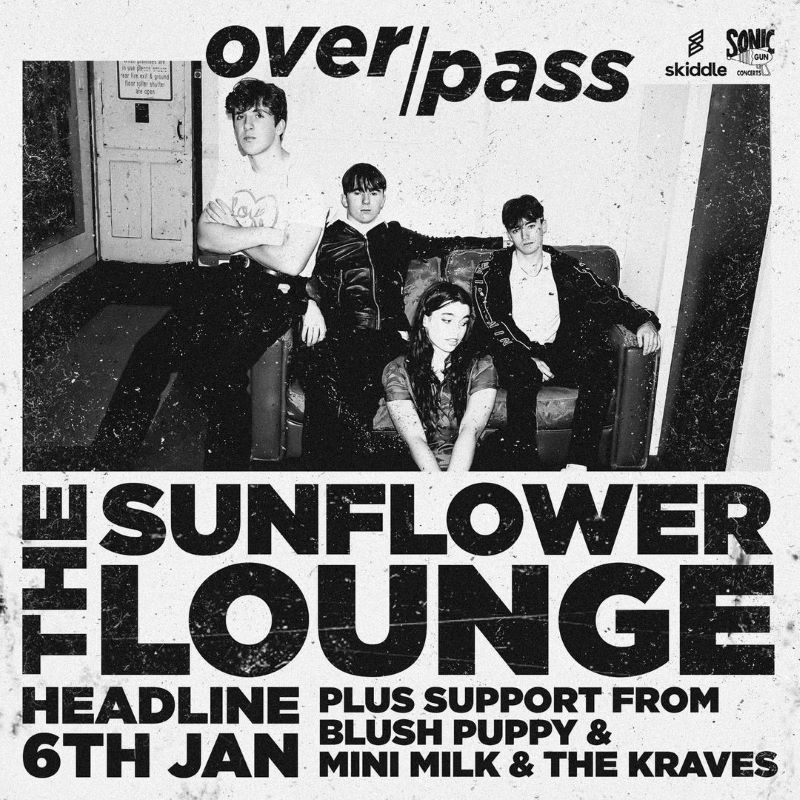 Overpass
The Sunflower Lounge
Review by George Wainwright
Overpass – the joys of modern day indie
On Thursday 6th January, Overpass carved out a fresh piece of their own history, headlining the first of two sold out nights at Birmingham's The Sunflower Lounge. Time and time again, gleeful concert owners are urged not to believe the hype surrounding up and coming indie acts – but Overpass sounds like a band worth shouting about.
The Brummie four piece have exploded onto the scene in recent months, fresh off the back of supporting stalwarts The Twang at the O2 Academy in December. Drawing upon a myriad of indie influences, Overpass are well established within the genre. Their live show is packed full of stadium anthems, radio ready riffs, and catchy hooks to keep you up at night. Set-opener 'Stop The Clock' is a smooth slab of 2000's rock, whilst debut single 'One Night Lover' proves to be a larger than life crowd pleaser. From the first refrain, the riff is being belted out around the room; the hallmark of a praiseworthy guitar part in any song. Elsewhere, on a groovy track entitled 'Changes', bassist Indie (appropriately named) takes centre stage. Her formidable bass playing is reminiscent of Peter Hook, a driving force upon which the other instruments can freely pivot.
Besides playing their own cuts, Overpass openly embrace their indie heritage, performing covers of cult classics 'Dakota' and 'Cornerstone'. The latter, a pitch perfect cover of the iconic Arctic Monkeys number, is the epitome of Overpass' fledgling identity. This is a band bridging the gap between those middle aged men who "saw it all" at Glastonbury in 2007, and their teenage daughters, trying their hand at learning guitar. Music does not adhere to paradigms of age or gender, and neither does tonight's crowd. A group of boisterous teens barrel an ageing man into the mosh pit, which he enjoys (then endures) before staggering away towards the back of the room. He of all people should know about the "efficiency that only youth can harness". The fan favourite covers are followed up by more original material. 'Meant To Be' is a sombre electric guitar ballad, reminiscent of 'Despair In The Departure Lounge'. Perhaps at times Overpass sounds too formulaic, a little too wrapped up in the sound of their predecessors; but since when did any band go too far wrong with classic indie rock and roll?
Set-closer 'Fugitive' is a fierce final act, encapsulating the yearning desperation of a young band looking to make it big. They haven't made it just yet – but two nights sold out in your hometown is a good place to start. After one more night in Birmingham, this weekend is withholding their biggest act to date; supporting The Wombats at the HMV Empire in Coventry. Boasting an exciting back catalogue of songs, an impressive resumé of support slots and headlining shows across the country – the only way is up for Overpass.