Lucy May Walker
The Sunflower Lounge
Review by Mark Wakeman
Discover Birmingham is an excellent initiative to give local acts the chance to play shows during a notoriously quiet month and bunching acts together gives them a potentially larger audience than they may have got in other slots.
As the start times for these shows tend to vary I'd sadly missed a couple of numbers of opening act Ellie Poole. The amazing thing about Ellie is that despite looking like any number of young acoustic female performers, her remarkably dark, almost baritone, like singing voice has shades of Scott Walker about it. If ever Ellie chose to explore the works of the likes of Jacques Brel or Leonard Cohen then her voice would be a perfect fit to interpret some of their songs. Closing your eyes and listening to her sing you'd probably imagine a much older likely gospel influenced woman her voice is that remarkable.
Ellie performed a wonderfully dark take on Lana Del Rey's 'Cola' which has one of the best opening and open to imagination lines I've ever heard. Her original material included the excellent 'Exploration Day' before she finished with her version of 'Black' by Pearl Jam from their seminal debut album 'Ten'.
Next up was Lucy Shaw, another artist who I've seen live a few times and who I always enjoy watching perform. Lucy, despite having a charming and happy stage presence and playing mainly whimsically pleasant tunes, has a wonderful honesty and openness in her lyrics, writing about things that have affected her and situations she has encountered in her young life.
'Inside Your Head' was written about mental health issues, 'Growing Old' is a tribute to the ongoing love her grandparents have for each other, 'A Cup of Tea' is about talking things over with her sister and the unusually titled 'Gwendoline from A and E' was about talking to an elderly lady in A and E when Lucy was waiting for a family member.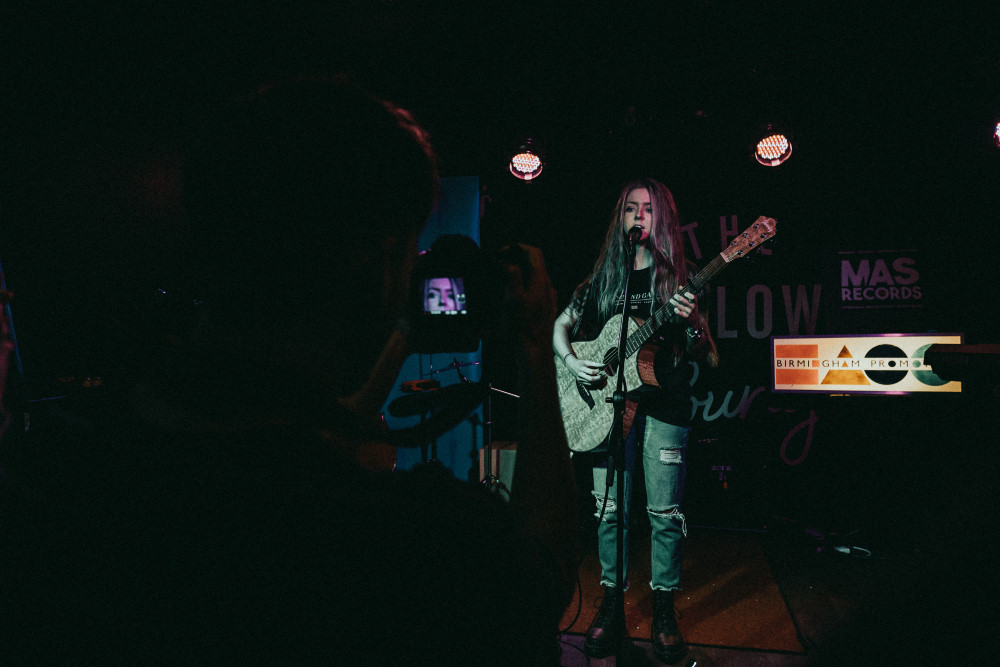 Whilst these song subjects may not seem exciting the lyrics are so well constructed that they tell a clear story without ever veering towards being corny or boring. Lucy's crystal clear voice and solid guitar playing made sure that her set never lulled.
Although I'd heard her play all these songs before it was still nice to hear them again and she has clearly grown in confidence as a performer since I first saw her play last year. Her customary cover of The Temptations 'My Girl' is always a highlight of her set and although a young girl playing an acoustic version of a song with one of the most famous basslines ever and David Ruffin's legendary soul voice shouldn't work – it does perfectly.
A new original song 'Platform 4C' about traveling to and from university was well received. Lucy didn't say whether she had actually written this song whilst sat on a train platform like Paul Simon was when he wrote 'Homeward Bound'. Another new unnamed song also about traveling sounded equally promising.
'Wingman' about the friend who is always there for you has always been part of Lucy's live set and sounded as good as ever before the country tinged 'On This Day' brought a very good set to an end.
Next up was another young local female singer Midge who was backed by an impressive four piece band including an excellent pair of female musicians on double bass and cajon/percussion respectively along with a couple of guys on keys and acoustic guitar. With Midge adding extra guitar and the more traditional instruments played by the other two ladies giving the band a more authentic traditional sound, the two lads were able to add some lovely flourishes on their instruments whilst the girls kept a rock tight rhythm section going.
Despite going to a large number of gigs I'd never seen Midge perform before or even heard of her and neither had the person stood next to me and he'd done over 450 gigs in the last couple of years. Ironically whilst speaking to her afterwards we both realized we'd been at the Namiwa Jazz gig the previous night at the Sunny as we both thought each other looked familiar.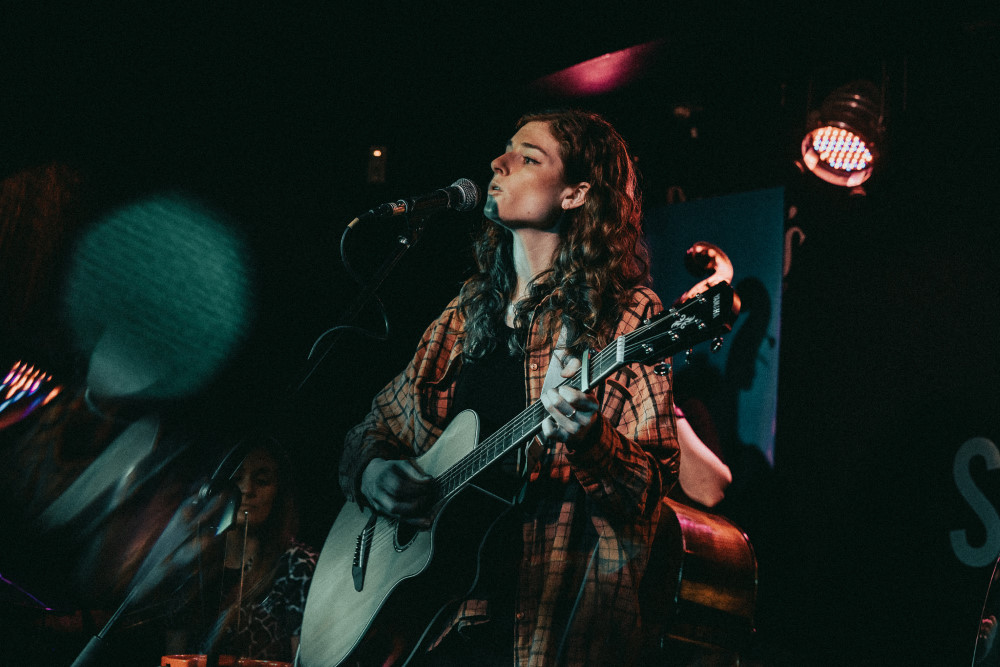 All I can say is where have you been Midge? As she and her band gave us one of the best support slots I've seen in recent years. Midge also bought an impressive crowd with her and has an EP Launch coming up in the spring at Dead Wax. This will certainly be worth checking out.
The band ran through an impressive set of songs opening with the melodic 'Sad Girl' and also featured 'Let This Go' and 'Treehouse' before ending with 'Loving Me' which descended into a wonderful impromptu on stage jam between Midge and her band.
Headliner Lucy May Walker originally from Worcester but now living in London was accompanied by Joe on keys. She opened her show with a new song 'Happy For You' before for some reason deciding to tell everyone a humorous tale of where she got changed for the gig – No further details to be given as I promised Lucy that when telling her I was doing the review at the merch table afterwards.
When I've seen Lucy before it has just been her on stage unaccompanied and Joe's playing certainly took what were previously good songs to another level by adding layers to the tunes to accompany Lucy's voice and guitar. 'With Him' was about a friend being better off by getting out of a toxic relationship, 'My Help' from her latest CD and 'Home From Home' about busking at the Edinburgh Festival followed.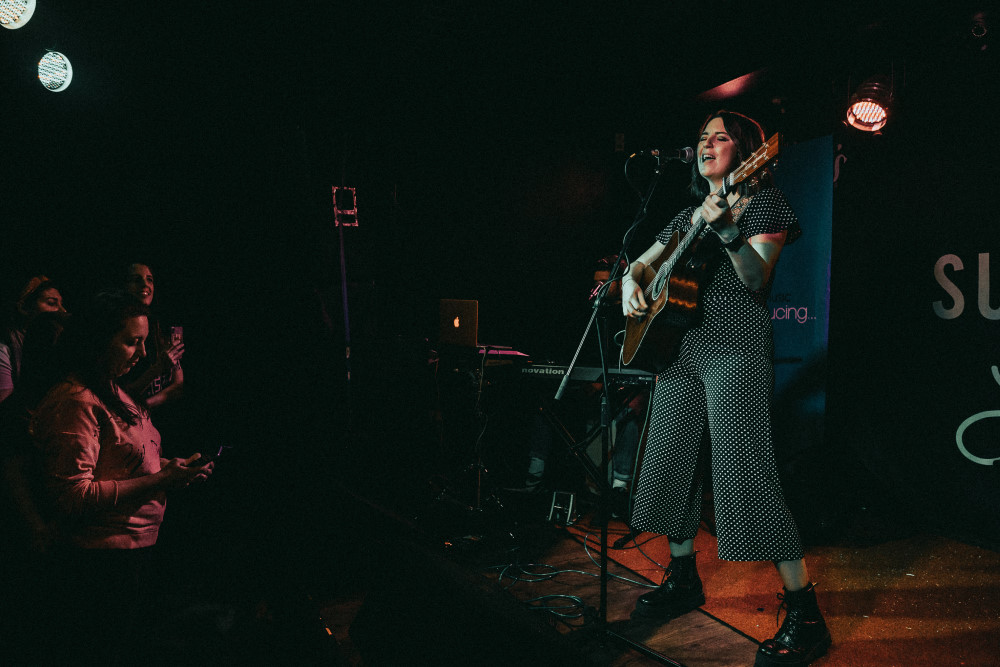 Lucy then called out people in the audience who were more interested in talking and asked them to go upstairs if they would rather talk than listen to her music. She professed afterwards that she was wondering if she should had said something or not but I fully agreed with her as we pay to listen and watch performers not hear what audience members are talking about.
Lucy was lucky enough to get a slot on Jeremy Vine's Channel 5 show towards the end of last year where she performed 'You're Not Alone' and joked she'd have to make sure to play the full version tonight and not the slightly abridged version she played on the show.
'Obsessed With You' had some darkly funny lyrics as did the recently recorded 'Bad Day' so it's probably best not to cross Lucy like those chatterers almost did. Sandwiched between these two was the sing a long 'Heartbreak Song' before an impressive set was rounded off with crowd favourites 'Safety Net' and 'I've Got You'.