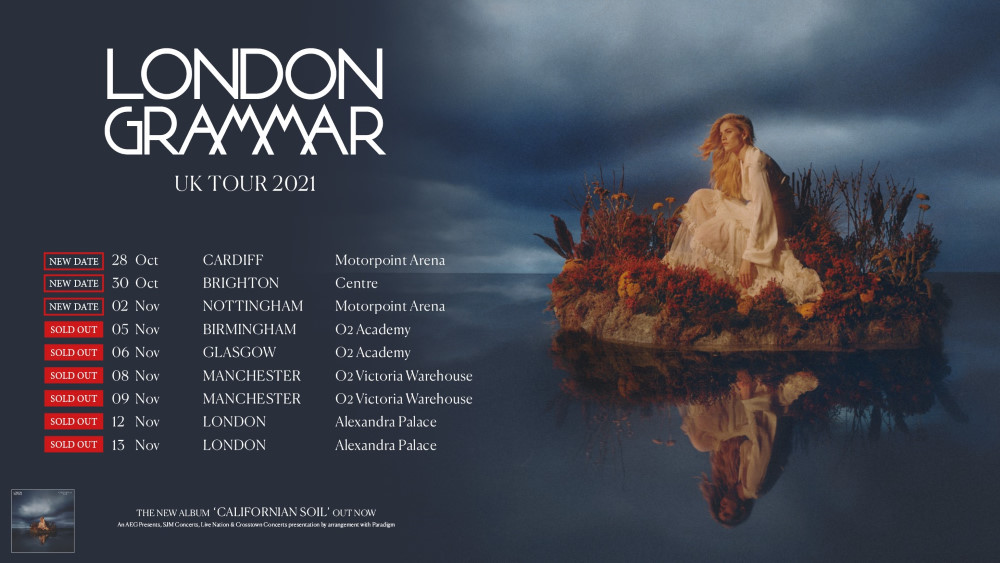 London Grammar
O2 Academy
Review by Alex Hoggard
London Grammar returned to Birmingham on Friday during a successful year for the band. The three-piece of Hannah Reid, Dot Major and Dan Rothman saw their third album, 'Californian Soil', reach Number One on the UK Albums Chart when it was released back in April. Having originally been scheduled to be the opening night of the tour, the show at the O2 Academy was preceded by three added shows in Cardiff, Brighton, and Nottingham such has been the success of 'Californian Soil'. As a result, tickets were hard to get hold of.
Taking to the stage to the instrumental opening of their latest album, 'Intro', the band quickly went into 'Californian Soil', with Reid playing bass. As you would expect, the bulk of the main set was made up of songs from their latest record. Highlights from the album, such as 'Talking' and 'Missing' were well received by the capacity crowd. There was an early nod to their first album, 'If You Wait', with 'Hey Now' being played three songs in, the first of four songs played from that album.
After a high-tempo performance of 'Baby It's You', the group played two songs from their second album, 'Truth Is A Beautiful Thing', with polished showings of 'Big Picture' and 'Hell to the Liars', with the audience hanging onto Reid's every word during the latter.
Although Reid has been known for issues with stage fright throughout her career, the singer put in a confident display, often looking to get the crowd involved with songs. The band were accompanied by an impressive stage lighting and visual display throughout, perhaps best exemplified on 'Lord It's A Feeling'.
Towards the end of the opening set, the band played an acoustic 'America' seated at the front of the stage before the backdrop was lit in red for set closer 'Metal & Dust'.
The band delved into their back catalogue again for the encore with 'Bones of Ribbon' and 'Strong'. Although a relatively short gig for a band of their size, clocking in at eighty minutes with sixteen songs, the crowd left happy after a final upbeat rendition of 'Lose Your Head'.