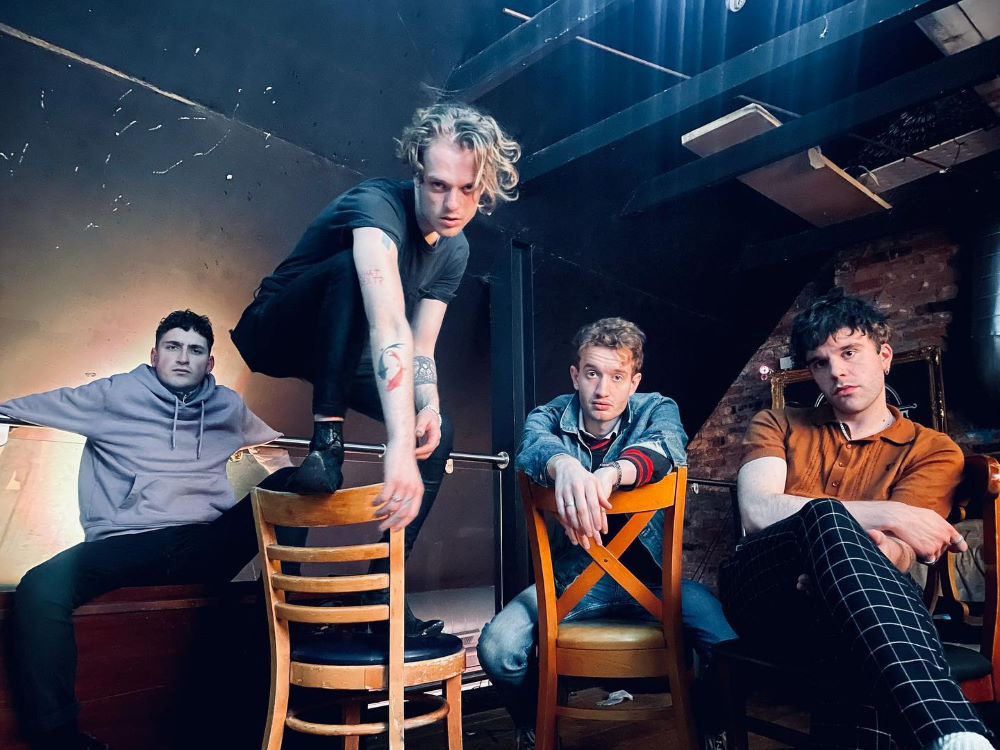 King No-One
Dark Horse
Review by George Wainwright
King No-One – making a name for the monarch without one
On the second day of Christmas, Indie Midlands gave to me King No-One, live from the Dark Horse in Moseley.
Fresh from the freezing cold, local Birmingham outfit Myriam Adams were the first band on the bill. Their energetic and unapologetic attitude warmed up the crowd for the ensuing evening of live music in the heart of Moseley. Myriam Adams have described themselves as the "best new Emo band in the world"; a claim which is backed up by comparisons to post-punk Emo icons Brand New. Myriam Adams offered up an abundance of raw emotion, delivered with lyrical sincerity and wrapped up in heavy distorted guitars. Next up on stage, live debutant Elijah Miller, joined by his touring quartet. Miller's set is bubbling with sugar sweet guitar tones and groovy bass riffs. Despite this being his first gig, Miller exudes the confidence of a man who's been on the live scene for years. His musical resumé speaks volumes of his stage presence, having written his first album at the age of just 17. Miller closes his slot with 'Alfred Benson', an adoring love ditty narrating a lifelong romantic affair. Miller thanks the internet for the success he's discovered, before thanking the crowd and disappearing backstage.
The weather outside is frightful, but the atmosphere inside the Dark Horse is delightful. Tonight's headline act King No-One arrives to an eruption of excitement from their fans at the front. Frontman Zach Lout mirrors the energy in the room, flying full-throttle into set opener 'Obsolete'. Lout's vocal talents deserve immense praise, soaring to reach seemingly impossibly high sustained falsettos. For the second number, all four members of the band lend their voices to the lyrics, creating a unique rock and roll a cappella. 'Not Willing To Sacrifice My Life' is an infectious track, relying on a four way vocal harmony throughout.
Lout pauses briefly to address his small entourage at the foot of the stage. Despite not touring in the UK since 2017, King No-One have maintained a small but committed cult following. Lout takes a lingering sip of red wine, nonchalantly limbering up for the next song. With renewed liquid courage, the crowd hanging on to his every word, Lout serenades us with a smirk.
King No-One made a name for themselves on the streets of York, with a background in busking. 'Oxygen' is an acoustic ballad, born on rain-soaked pavements. Lout berates international governments and preaches about the impending climate crisis, with reference to the recent COP26 summit in Glasgow. Despite his earnesty, Lout can't take himself seriously for too much longer after the last chord. He jokes that he feels like a "cat in a cage" atop the tiny stage. He runs his hands through his mane of long blonde hair, roaring down the microphone. With his hair off his face, Lout reveals a black upside down cross etched on his forehead. The symbolism is fitting for the following performance of their 2017 single 'Antichrist'. 'Antichrist' is another song with an important message, encouraging the audience to embrace all their perceived imperfections. Lout's nail polish is chipped and his hair a mess; yet he presents himself as the perfect frontman for King No-One. Everyone is equal under his reign, although he is most certainly our monarch. Lout climbs atop a speaker, like a king surveying his subjects. From upon his throne, he delivers a heartfelt rendition of 'Two Islands', swelling with emotion and the unbearable weight of lost love. Lout proclaims that his heart is "in Alcatraz" during the next song; the band's most popular strain by far. A quick check on Spotify reveals that 'Alcatraz' has been streamed more than 5 million times; it's no wonder the whole room knows the words.
King No-One closes their set with an energetic account of 'Roll The Dice', which has the audience dancing and the ceiling beams shaking. Birmingham is the band's last night on their 2021 UK tour; next up they'll be embarking on a European conquest, with shows across the continent this coming month. Jostling with a plethora of rising indie acts, King No-One are somewhat overlooked and underrated amongst their scene. But with such a distinct blend of alt-pop rock, it's hard to imagine they'll be 'No Ones' for much longer.