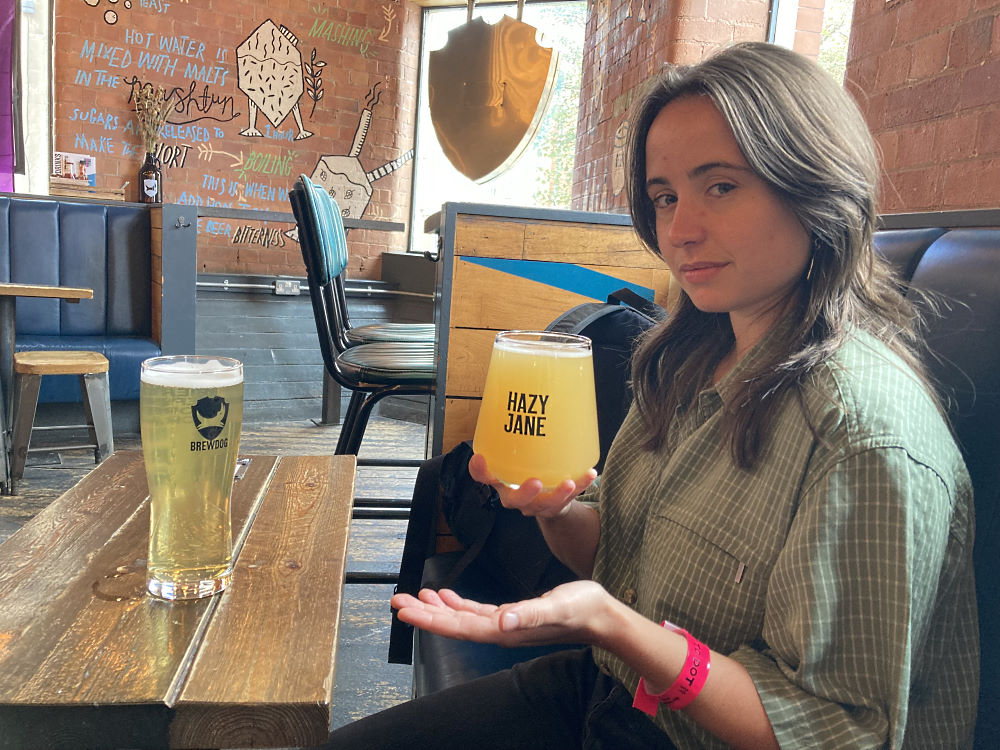 Dot To Dot Festival
Nottingham
Review by Morph
One of my musical highlight's every year is Dot To Dot Festival in Nottingham and with no festival in 2020 thanks to you know what, it was great to get back to it in 2021, even if it was in September instead of it's normal May date and lacking the usual international acts that would take place.
The lineup was still solid though and presented me with more than enough acts that I wanted to see for the first time. Naturally with an inner-city festival taking place across a number of venues there is always going to be clashes where two artists you'd like to see are playing at the same time. Chubby And The Gang and Anorak Patch being two acts in particular who I had to miss out on.
I normally attend Dot To Dot Festival on my own but this year I was joined by local legend and close friend Bryony Williams and I think it's fair to say we both had a great time. It was also nice to bump into some East Midlands based music friends who I hadn't seen since 2019. It was good to see them all back out enjoying what they love after all the shit of the pandemic.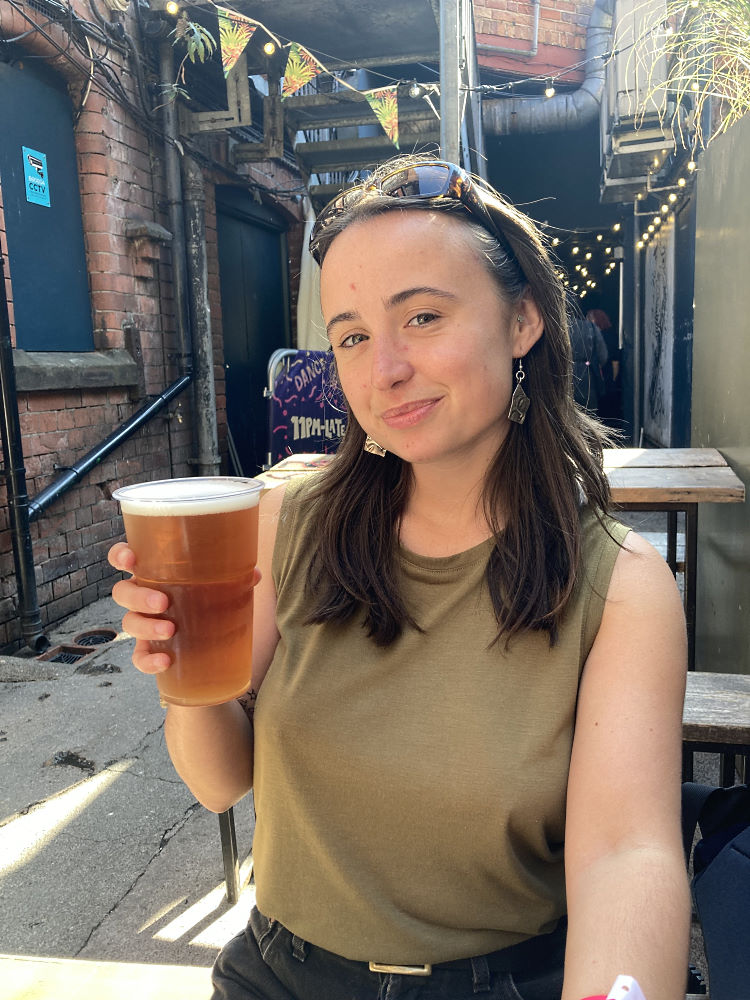 We had seven acts on our schedule we definitely wanted to see, and we did six of them, so we didn't do too bad. First up was a band I only started listening to a few days before the festival but instantly fell in love with. Wych Elm. Upon seeing them live my love for them has only grown.
Wych Elm have a great early 90's sound, a mix between Pixies and bands like The Breeders. This is a quartet that we need to get in Birmingham, whether it's myself or another promoter. They went down very well with the crowd at The Bodega.
Wych Elm were the first of three consecutive acts we were seeing at The Bodega and next up was my old friends LIINES who I hadn't seen for probably around three years. LIINES never disappoint and the venue was pretty packed for their set. As always singer/guitarist Zoe's vocals were a delight and as usual the trio (now on their third bassist since I first saw them) rocked. The day had got off to a great start.
Next up was the band who I'd most been looking forward to seeing at the festival, Grandmas House. The trio are an act who I have wanted to see live for quite a while. I even made contact with their management a while back to try and get them to Birmingham but another promoter (This Is Tmrw) had already beaten me to it and I now look forward to seeing them again at Hare & Hounds on November 1st.
Grandmas House are deliciously grungy and singer/guitarist Yasmin's vocals are a mix of Courtney Love & Lia Metcalfe from The Mysterines. I absolutely love this trio. Don't miss them in Birmingham!
After Grandmas House we moved up town ready to see Deep Tan. We had a while until their set so the plan was to go into one of the three venues in Rock City and catch someone else. However after buying a pint at the outdoor Signature Brew stand we couldn't resist the opportunity to sit and chill for a bit on one of the benches in Talbot Street that had a couple of spaces free. We also used the opportunity to put up some of Bryony's tour posters on the walls so that anyone sitting at the benches would see them.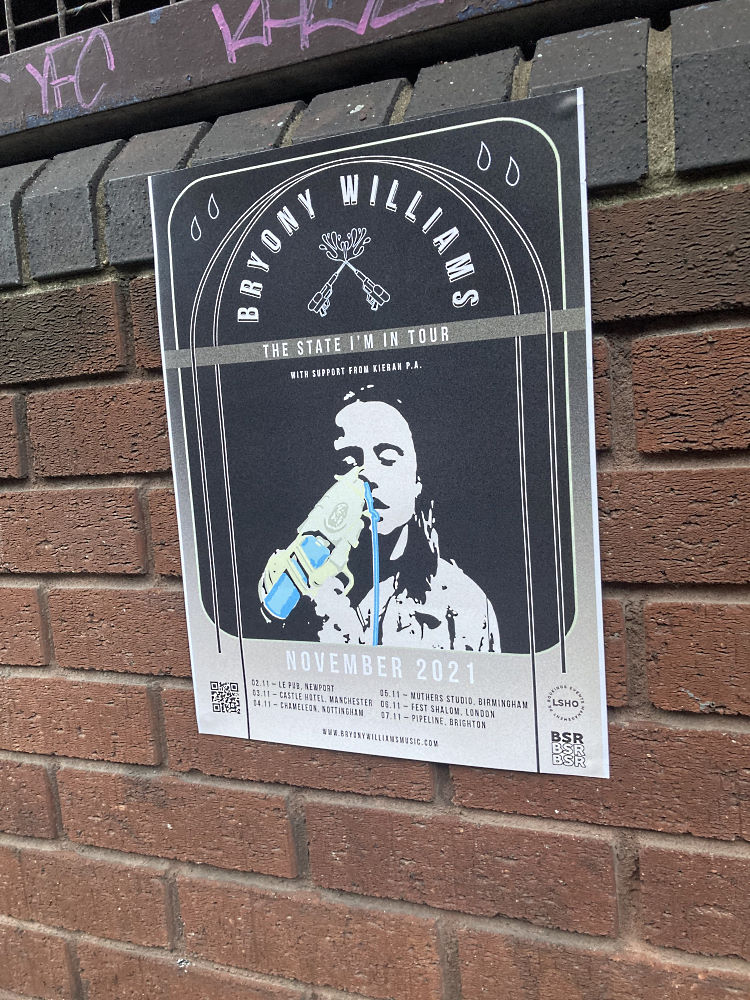 With more than a few beers inside us at this stage we succumbed to the lure of the burger van and joined what was by now quite a long queue. And a queue that basically wasn't moving. As we finally got near the front, and with a free meal voucher each in our hands courtesy of Sad Boys Club who had already given up the attempt to get food, news filtered down that they had run out of burgers. Not fancying any of the bits of food they had left I gave my free voucher away and went back to the benches to finish the beer we'd got whilst waiting in the food queue…
And that is why we missed Deep Tan. Still, next up it was inside the venue they had just played, Black Cherry Lounge, for the amazing Smoothboi Ezra. I'm a sucker for a bit of melancholy and that's what you get with the beautiful songs of Ireland's Smoothboi Ezra. They played a great set and it was a pleasure to see them live. My only gripes were with the crowd. One, it was a disappointing turnout for such a talented artist, and two, a number of those who were inside the room decided to stand at the bar chatting. On more than one ocassion I got the urge to to tell them if they wanted to chat to go outside to do so.
We next headed to Red Rooms to see Pixey. At this stage a combination of beer and walking/standing began to catch up with me and I was feeling a little drained. I sat on a stool near the bar whilst Bryony moved down near the front. But just two songs in to her set the energy from Pixey revitalised me and I soon left my stool to join Bry. Despite a plethora of sound issues Pixey and her band (featuring ex Valeras member Katie King) battled through the set to leave everyone in the room with a smile on their face by the end.
It was time to head back down town to The Angel for our final set of the day and one we had both been looking forward to all festival, Arch Femmesis. Some of you reading this may well have attended the Arch Femmesis gig that Bryony (via GRRRL GROANNN) and myself put on at The Sunflower Lounge back on August 6th. If you did attend then you know just how great the duo of Zera & Stephen are, and playing a hometown show in Nottingham they didn't disappoint. There was posing, there was dancing and there was even some kissing. It's simply impossible not to enjoy yourself when Arch Femmesis take to the stage. There was no better way to end our Dot To Dot Festival.
At The Angel we met back up with our friend and uber talented photographer from London Keira who was shooting and reviewing for Loud Women, you can read her review/view her photos here. We had started the festival with Keira at The Bodega and now finished it with her at The Angel, but that wasn't the end of the night as the three of us, along with Keira's friend Kieran and a guy we met outside who's name none of us ever learnt headed to a bar called MOJO to party. Finally, just before 4am and with sobriety all but a distant memory, we decided it was time to head back to our hotel room ready for the hangover* that was to follow a few drunken hours sleep.
*To be fair after a shower neither of us were too bad. We got breakfast, went to Rough Trade to get some more tour posters put up and then had one final pint in Brew Dog before heading to the station to get our train home. Dot To Dot and Nottingham, you were both wonderful as always. I've already purchased my early bird ticket for next year!